Smartwaiver is the leading digital waiver service for tour operators around the globe. They convert your paper waiver into a customized, legally-binding, digital smart waiver that your customers can sign ahead of time online or at your location on a computer, tablet or smartphone. Signed smart waivers are stored in a secure, searchable database, eliminating the need for paper waivers and filing cabinets.
With the Smartwaiver/Rezdy integration your customers can complete your waiver online and the signed, legal document will automatically be attached to their booking in Rezdy.
Learn more and sign up for a free trial at https://www.smartwaiver.com
Please note, that Rezdy integration supports Smartwaiver v3 API. Therefore, please use the API key for the v3 API version and do not setup Waiver level webhooks, which are working only with v4 API version.
How the integration works
After you enable and configure Smartwaiver, your customers will be asked to sign a Waiver after they make a booking, and you will see the status in your order page and Manifest.
You can select which Smartwaiver form you want to use for each product. When a booking is completed, confirmation e-mails will contain links for each participant to sign the waiver.
After a participant signs the waiver, Rezdy will update the status and participant details and display it on your manifest.
Smartwaiver integration is available on the Rezdy Premium plan and above.
How to enable and configure Smartwaiver 
In Smartwaiver, create your account and setup your electronic waivers 


Open the URL in a browser https://www.smartwaiver.com/m/rest/


In the Create an API key section, type a label for your key and click on Create





Copy the API Key for V3 into the clipboard (select, CTRL +C)






Open Rezdy in a new browser tab and go to the Smartwaiver App (Integrations > Third Party Apps)





Paste the key into the text box API key





Copy the Webhook URL text into clipboard (select, CTRL +C)





Open SmartWaiver's webhooks URL: https://www.smartwaiver.com/m/rest/?webhooks 



Paste the Webhook URL provided by Rezdy into the Your Webhook URL text box.





On the same page, click on Show Webhook Private Key


Copy the key into the clipboard (select, CTRL + C)





On Rezdy paste the Webhook Private Key into the Webhook Key text box


Click Save






Your SmartWaiver account is now linked to your Rezdy account. 


Turn on this box to allow auto updating of signed waivers to be pushed to Rezdy.

Click into  name in the top right > Account Settings



Click Waiver Console > Waiver Console Setting > Tick box and save. The next step is to enable Waivers for your products.


​
Add Smartwaiver to your products
Click on Inventory -> My Products, open the product you want to use Smartwaiver for and click on Details tab.




Tick the check-box Ask customers to sign a Waiver. 


A dropdown shows the list of waiver forms created in your Smartwaiver account. Choose the Smartwaiver form you want to use for this product and click Save product





New bookings made for that product will now generate a unique signing link on SmartWaiver for each participant.
Where is the Smartwaiver status displayed?
Customer e-mail
Smartwaiver links are generated for each participant, and sent in the order confirmation e-mail.
Waiver not signed:

Waiver signed:

Order detail
When viewing an order, you can see the Smartwaiver status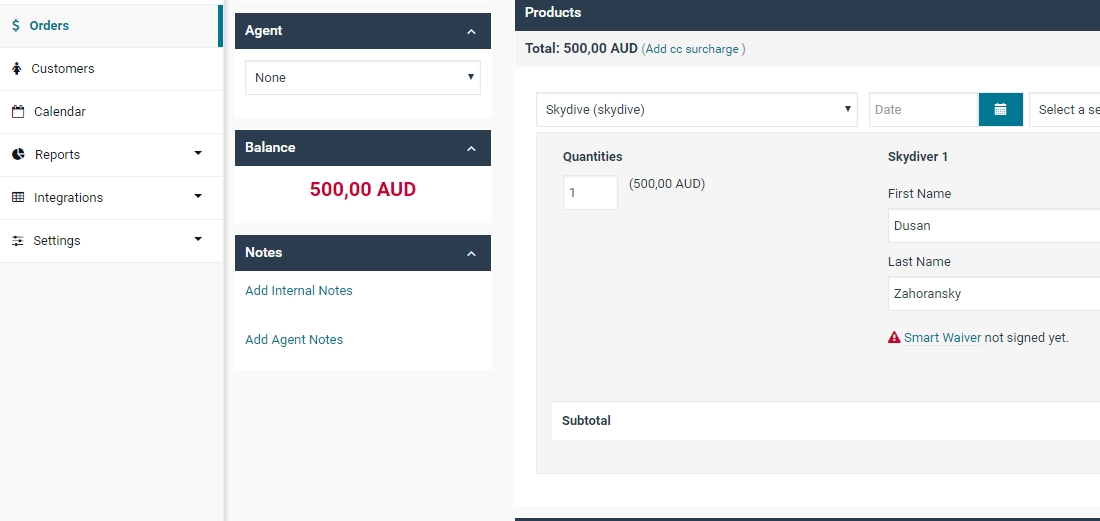 Manifest
If you enabled Show on Manifest (Inventory -> My products -> Booking Info -> Other Manifest Fields), you will see the Waiver status on your manifest: