How To Connect to Amazed
Follow
Overview
Amazed is the ultimate place for amazing things to do. They love connecting those who love adventure, with hosts who love to amaze guests with unique experiences they'll remember for a lifetime.
Important: Amazed is currently accepting operator applications only in Australia and New Zealand.
---
1. Initial setup: What you need to get started
You must have an Amazed account, click here to sign up. You must also:
Have an ABN or NZBN; and
hold a Public liability insurance.
Please note, you do not have to be registered for GST.
Tip: To improve your listing on Amazing.com, we strongly recommend that you upload a minimum of 5 images that show your customers enjoying their experience.
---
2. Getting connected
After you have submitted your Amazed application, a member of the Amazed team will reach out to explore the opportunity. You'll then be asked to:
You can then move onto step 3.
---
3. Share a Negotiated Rate in Rezdy
Click Add Agent.
Read our T&C in regards to OTA connections and click Send Your Rates if you agree to proceed.
Next, within the New Agent page:
Once this is done, your Amazed account manager can assist you with mapping your Rezdy products to your Amazed products.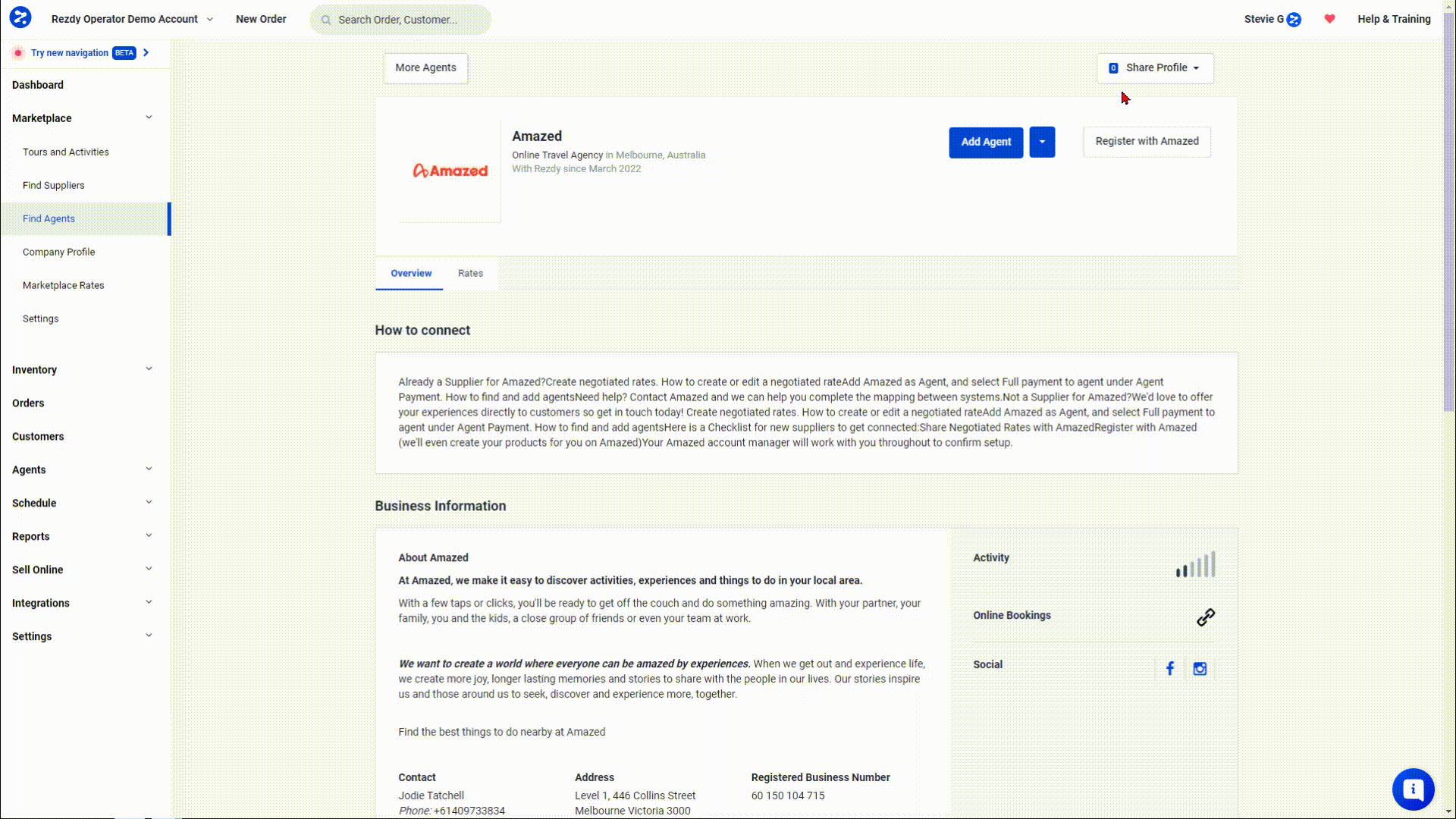 ---
Future changes to the product or negotiated rates
The most important elements to your product connection with Amazed is your Rezdy product ID and product types. When making changes on your current products, it is highly recommended to keep your Amazed representative informed in situations of:
Product ID: A new product is created to replace the current product.
Ticket type changes: E.g. the product was using Quantity as ticket type but it has been changed to different age groups: Adult, Child, Infant…etc
Minimum quantity per order: Your Amazed representative can assist you by adding a restriction on your Amazed product page, so it can be communicated more clearly with the customers.
Pricing: The prices for each product's ticket types are set up on Amazed back office. We recommend to get in touch with your Amazed representative to double check the negotiated rates are set up correctly on both ends
---
Frequently Asked Questions
How long will it take for my experiences to be live on Amazed.com?
Once you have completed the above 3 steps, your experiences will be live within 5 business days.
Which type of experiences is best suited for Amazed.com?
Tours, Attractions, Activities, Theatre, Dining, Virtual.
---
---