How To Set Up RezdyPay (Automated Payments)
Follow
Overview
Before you get started, make sure to have the following information with you:
Bank account details, including name, routing/BSB number, and account number
To confirm your identity, you'll need one government issued form of ID. Depending on your location, you can select one of the following:

Passport
Driver's license
Identity card.
Note: RezdyPay (v2) is only available to operators trading in AUD, USD, CAD, NZD, GBP or EUR currencies.
---
RezdyPay 3-Step Onboarding
1. About your business

Select the type of entity.

2. Personal details

Fill in your personal details.

3. Business details

Complete business details.

Note: If you need to manually enter a business description, you can click the add a product description instead link.
Verifying Your Identity
The final step is verifying your identity by selecting one valid government-issued ID.
Important: During the identity verification process, you'll be asked to provide one of the above forms of ID. You can take a picture (must be color) of the entire document, screenshots are not allowed. JPG, JPEG or PNG format only.
Click the Update button

Click the Start button

Choose one of the ID types

Note: The ID selections will depend on your country location.
Provide Bank Account Details
Once you have completed the onboarding process, you will be redirected back to Rezdy to provide your bank account details.
Enter the Account Holder Name
Enter your bank account details
Agree to the Rezdy Terms of Service
Click the Save button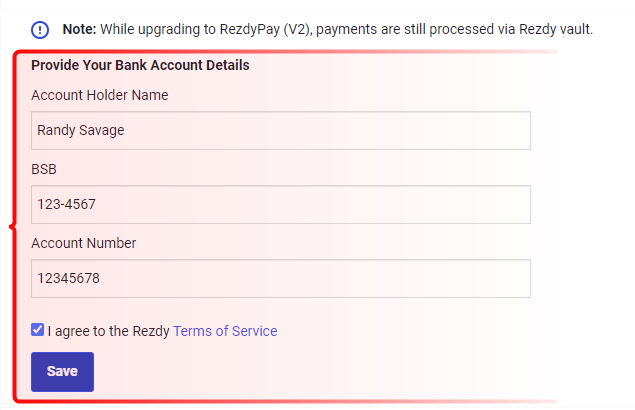 Setup Pending Verification
After providing your bank account information, your setup will be verified and you will be notified via email once verification is complete. This process can take up to 4 business days to complete.

Further Information Required?
If you have not yet verified your identity by uploading a valid form of government-issued ID, you'll find a Further Information Required message.

---
Frequently Asked Questions
Does setting up RezdyPay for Automated Payments replace or change my current payment gateway?
No. Your payment gateway (Settings > Payments) will continue to process payments for direct bookings.
How secure is RezdyPay?
RezdyPay meets (and exceeds) the most stringent industry standards for security. Stripe is also audited by a PCI-certified auditor, and is certified to PCI Service Provider Level 1. This is the highest level of certification available. You can learn more about the technical details of Stripe's secure infrastructure at: https://stripe.com/docs/security/stripe
How long does the setup process take?
The account verification process should take up to 4 business days. In case of any issues you will be notified via email.
How will I be notified of any required actions?
If any action is required, you will be notified via email.
Why do I see a 'Further Information Required' message?
This means you still need to verify your identity. Click the Add Information button to verify your identity. Click here to learn more.
I have completed my setup, how do I change or update my connected bank account?
---
---