How To Connect to Google Things to do
Follow
Overview
Google, the world's top search engine, helps travellers find activities and information, directing them to bookable tours and experiences based on their destination or interests through Points of Interest, Google Business profiles, and searched categories in relation to their intended destination or activity. Click here to learn more about Google Things to do.
Tip: We recommend that you first claim or create your Google Business Profile click here to learn more
. If you want to list your service area on Google
, there will be additional configuration required on our end. Please continue with the setup and raise a ticket with our support team.
---
1. Before you get started
You must create products within your Rezdy account.
Your products must have future sessions (availability) created in your Rezdy calendar. 'Any date' & 'Date not required' scheduling options are both supported.
Note: Google currently does not support Shuttle and Merchandise product types.
---
2. Associate your Rezdy account with your Google Business Profile
Complete this step to associate your Rezdy account with the correct Google Business Profile.
Then click Manage Google.

Within the Google Things To Do agent page:
Company Information
Google Business Profile: Search for your business name, and select from the drop-down suggestions (This is recommended to ensure an accurate match of your Rezdy account to your Google Business Profile).
Business Category: Select your business category, either Experience or Attraction. This is determined by your Google Business Profile.
Click the Save Agent button.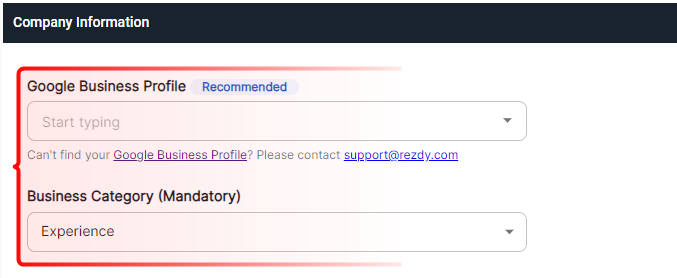 Important: Rezdy provides Google with the business name and address found in Settings > Company Profile. Google will attempt to match a Google Business Profile. But for accuracy, it is recommended that you complete the above Google Business Profile field.
---
3. Manage Products to Submit
This section allows you to manage your submitted, not submitted, and unsupported products. To submit a product;
Click the Not Submitted tab.
Find a product you want to submit, and click the Update & Submit link. You'll be taken to the product's publish tab (Google Things to Do).
Note: For products with the Sessions Required status; you must first create future sessions in your calendar. This is a requirement to submit your product to Google. Click the Update Sessions link to be taken to your calendar.

Within the product's Publish > Google Things To Do tab:
Check and update all mandatory fields.
Tick Submit to Google Things to Do and click Save product.
Congratulations! You've submitted your product to Google. You'll be taken back to Google's agent page to submit more products.
Note: Google will process any updates from Rezdy within 24 hours. If your change is not reflected after this time, please click here to raise a support ticket.
---
Frequently Asked Questions
How and where does my product appear on Google Things to do?
I want my own business logo to appear with the products submitted to Google, can I change this?
Yes. Within the product's Publish > Google Things To Do tab, look to the Booking URL field, uncheck the Same as Rezdy booking form URL checkbox and enter your own website URL. Google will use your website's favicon. Please ensure the landing page adheres to Google's policy
I operate an accommodation & tour experience. The category of my Google Business Profile is an Accommodation, how can I list my experiences here?
Google currently does not support hotels & lodging POIs, unfortunately for now any Google Business Profiles with Accommodation as their category will not be able to participate in GTTD.
The name on my Google Business Profile is not the same as Rezdy, but I want to keep both as-is, what should I do and what will happen if I do?
Currently, Google will attempt to find a match by address & company name provided by Rezdy (Settings > Company Profile). Google is continuously making improvements, but its possible that no match will be made. If you want to connect now, it is recommended that you update your business name in either Rezdy or in your Google Business Profile to match. To further improve match success, you can add your Google Business Profile within Google's agent page, see Step 2.
I offer a cooking classes, which are not exactly guided. Which option do I select for my products?
Guided. Also be sure to add the category 'Food' this will help guide users to your products,

when searching for food related experiences.
My product offers both a self-guided and guided experience. Can I select both?
Unfortunately, this is currently not supported by Google. You must select either Yes or No.
---
---