Get Marketplace Ready in 3 Steps
Follow
Overview
Increase your Rezdy Marketplace exposure and automate payments, commissions and refunds by completing these 3 simple steps. When a reseller books one of your Marketplace Rate products, Rezdy handles the payment between you and the reseller, instantly and guaranteed.
---
1. Set up Automated Payments
Before you get started, make sure to have the following information with you:
Bank account details, including name, routing/BSB number, and account number
To confirm your identity, you'll need one government issued form of ID. Depending on your location, you can select one of the following:

Passport
Driver's license
Identity card.
Important: During the identity verification process, you'll be asked to provide one of the above forms of ID. You can take a picture (must be color) of the entire document, screenshots are not allowed. JPG, JPEG or PNG format only.
Find the Automated Payments section
Click the Start Setup button (or Upgrade Now button if you are upgrading) to begin the 3-step onboarding process (provided by RezdyPay)

RezdyPay 3-Step Onboarding
1. About your business

Select the type of entity.

2. Personal details

Fill in your personal details.

3. Business details

Complete business details.

Tip: If you need to manually enter a business description, you can click the add a product description instead link.
Note: Click here for more details on setting up automated payments in the Marketplace.
---
2. Set up your Marketplace Rates
Find the Marketplace Rates section
Click the Add Products button

Select the Products you want to sell through the Marketplace
Select a Percentage (or Net Rate) and enter the commission
Click the Save Rates button

Note: If you're unable to use Marketplace Rates, you can always set up and use a Negotiated Rate to work with Resellers within the Marketplace. Click here to learn more.
---
3. Select a cancellation policy
Choose a Marketplace cancellation policy that closely matches your overall business cancellation policy:
Last Minute: Orders can be cancelled at any time before the tour starts.
Flexible: Orders can be cancelled 1 day before the tour starts. Full automated refund to the customer
Moderate: Orders can be cancelled 7 days before the tour starts. Full automated refund to the customer
Strict: Orders can be cancelled 30 days before the tour starts. Full automated refund to the customer
Very Strict: Orders can be cancelled 60 days before the tour starts. Full automated refund to the customer
None: No cancellation. Customers who request a cancellation are not refunded and the booking Agent will keep their commission.

Read and accept the Marketplace Service Agreement.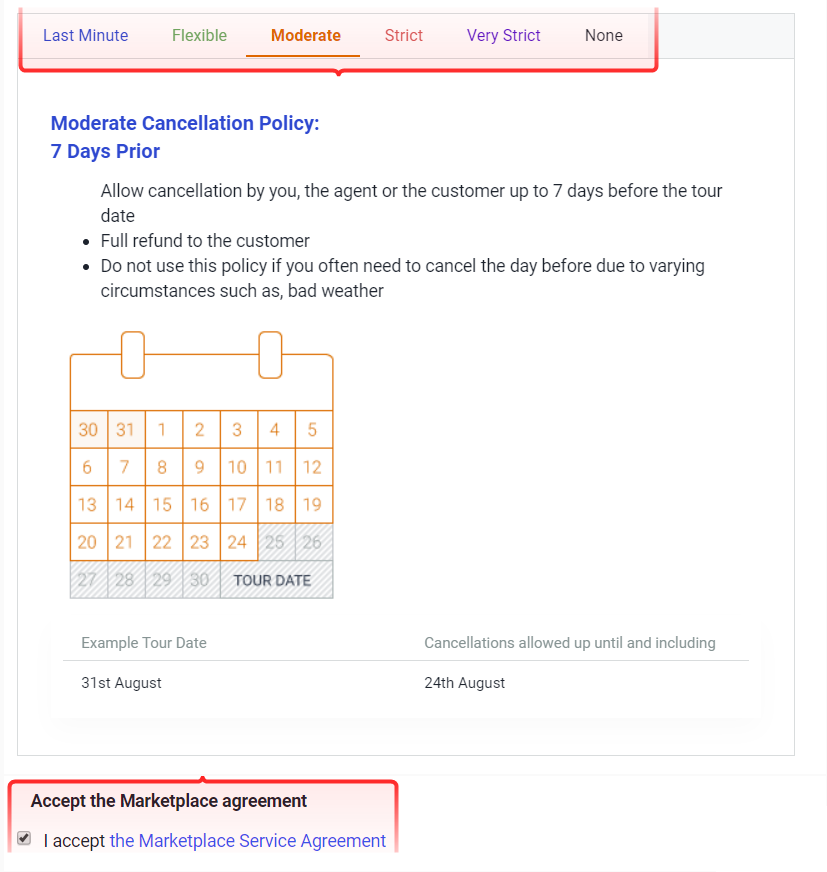 Important: Account Under Review - If you are receiving this message, please contact support so we can review and publish your account to the Marketplace.
---
Are there any fees or costs of using Marketplace Rates?
Yes. Rezdy takes a 2% fee from the Agents commission to supply and maintain the secure payment connection between you, your customers, and your Agents.
This means that if you share a Marketplace rate at a 20% commission for a product, the Agent will receive 18%.
---
---