Recommended: Update Your Company Profile, Invite a User & Legal Page
Follow
Overview
We highly recommend that you update your company profile before beginning the Fast Track Guide to Rezdy. This article will walk-through updating Company Profile, Users and Legal section in the Setting drop-down menu.
---
Update Company Profile and Details
Click Settings
Select Company Profile
Update your Phone Number
Enter a Company Description (optional)
Upload a Logo (optional)
Scroll down and click Save Company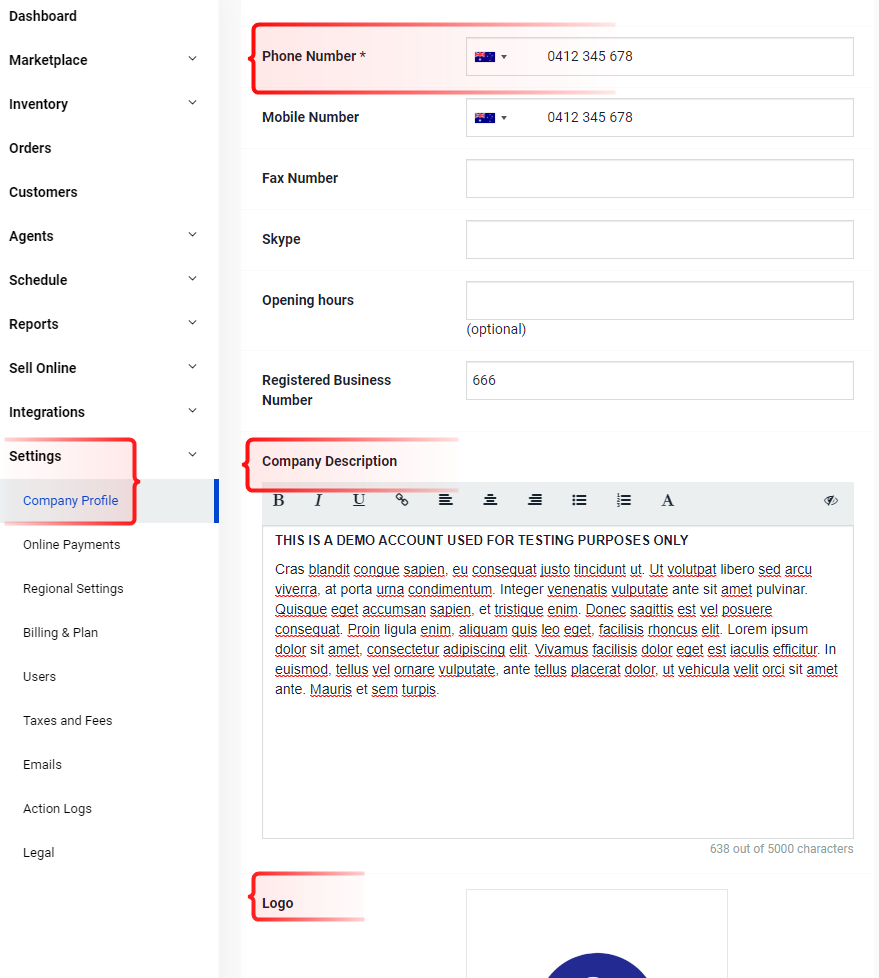 ---
How to invite a User
Users are people who belong to your company on Rezdy (i.e. your staff). They have their own Rezdy login and configurable access to your company inventory, calendar and manifest, orders and customers, etc.
Note: You must be an Owner user to create and invite new users.
Click Settings
Click Users
Click Invite user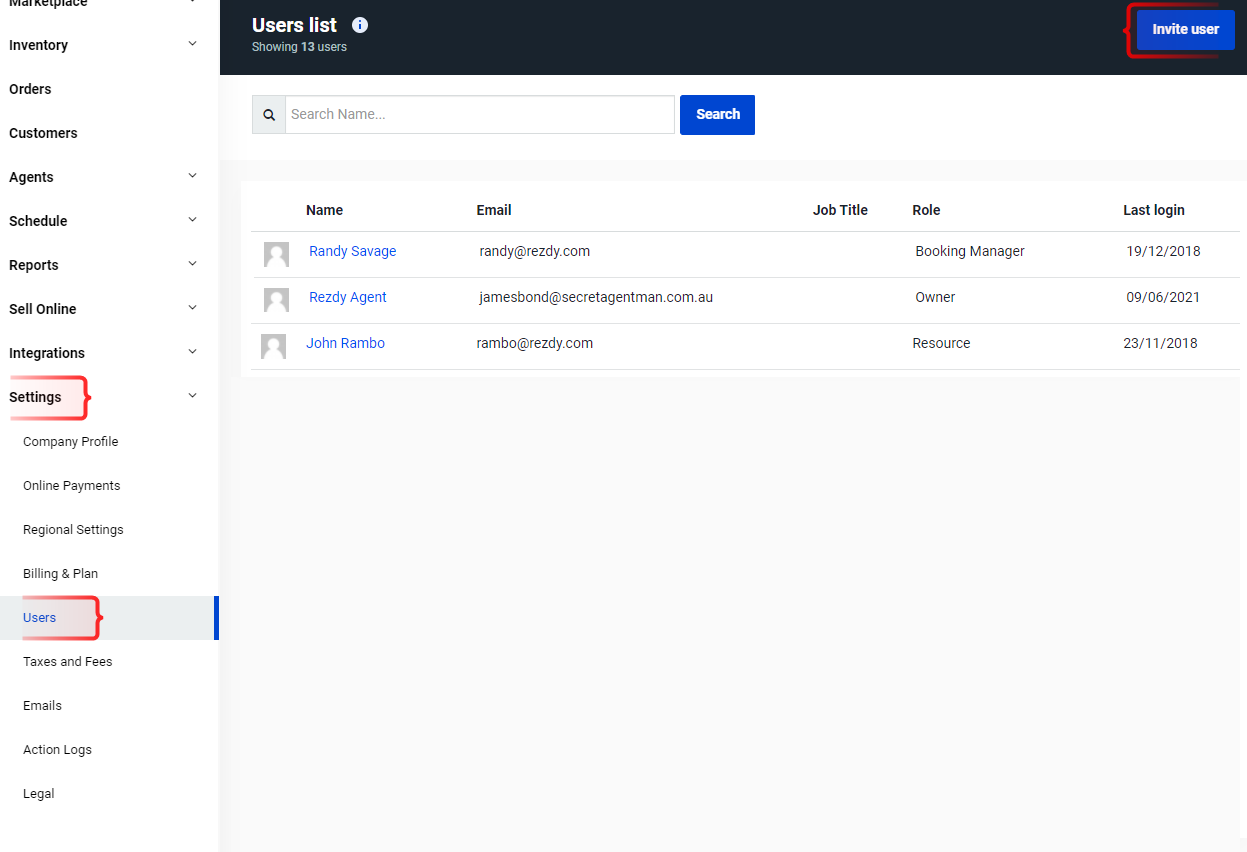 Within the New user page:
Enter the User's details

Enter the first name (required)
Enter the last name (required)
Enter the email address (required). The email address will be the username and MUST be unique.
---
How to set up the Legal page (Terms & Conditions, Privacy Policy, and GDPR Follow Up Emails)
The Legal page contains GDPR compliance tools, allowing you to follow the rules and regulations introduced late May of 2018, at the same time protecting you from fines & penalties.
---
How to configure the Legal settings
Click Settings
Click Legal
Enter your booking Terms & Conditions
Enter your Privacy Policy
Set the acceptance for both Terms & Conditions and Privacy Policy

Implied Consent: Your customers will implicitly agree by clicking the pay button to complete their booking
Explicit Consent: Your customers need to check a box before they can pay and complete their booking

Enable GDPR Compliant Follow Up emails.

Enabled: Your customers will have a choice to opt-in to receive marketing emails upon checking out if your customers choose not to receive marketing emails; follow up emails will not be sent. Please Note: Enabling this option will automatically tick the "I Agree to receive marketing emails" checkbox for every Product.
Disabled: Your customers are not given a choice to opt-in to receive marketing emails upon checking out, follow up emails will continue to be sent, however you run the risk of GDPR fines & penalties.

Click Save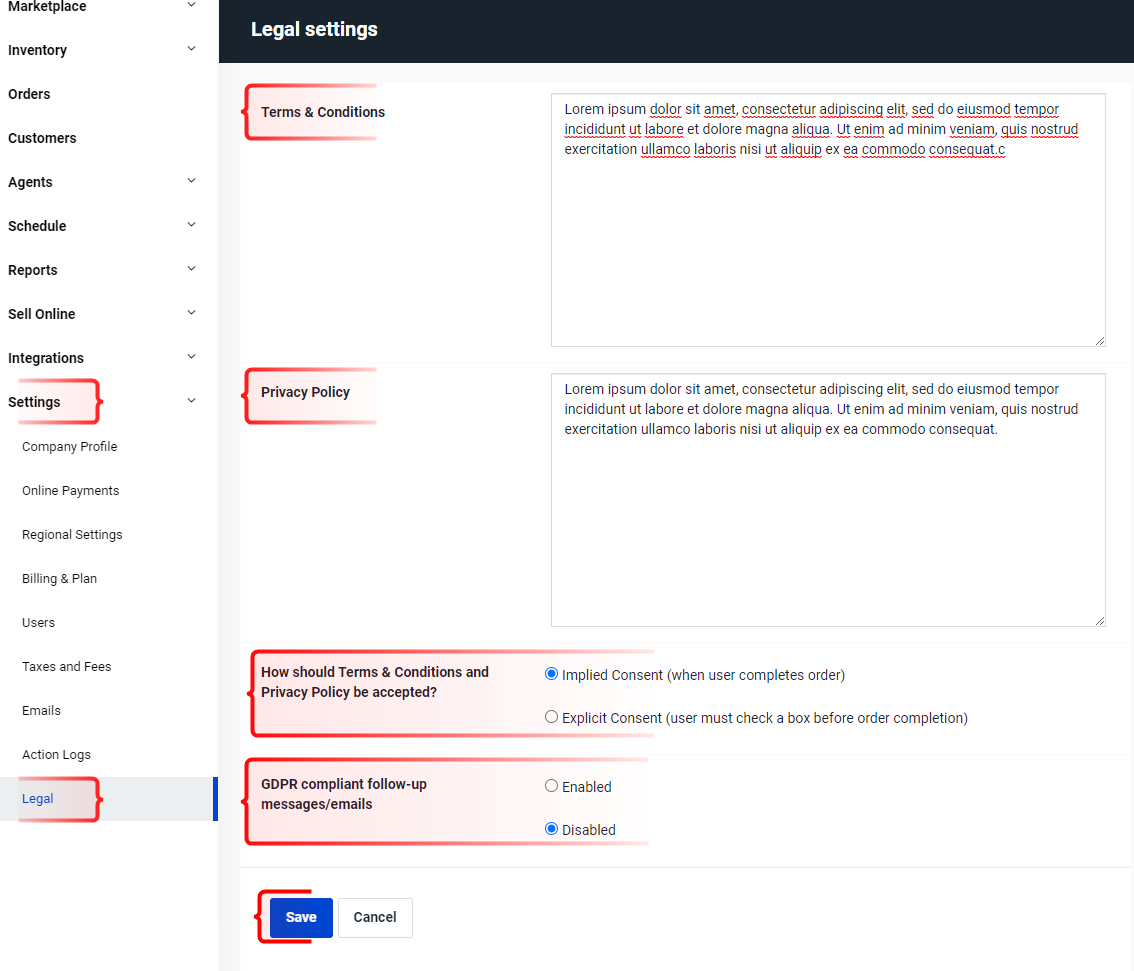 Click here to return to Get Started #1: Get Your Products on Rezdy
---
---