Recently Released - 28 November 2019 - Restore Deleted Products & Orders, Zapier API 2.0, and more...
Follow
Hello!
Here at Rezdy we are continually working to improve our products with releases that add new functionality or address existing issues going out nearly every day.
Every few weeks we'll summarise what's new, what's changed and what we have fixed and provide an update on those changes. This week we are excited to share with you a handful of new features, improvements and fixes.
---
Restore Deleted Orders and Products
Have you ever deleted an order, or product, by accident? Then have it dawn on you how much work it'll be to re-create them? Our latest feature is here to alleviate these concerns and give you the ability to restore orders (online & internal bookings only at present) and products with a few clicks!
Click here to learn how to restore orders
Click here to learn how to restore products
As part of this work we've also updated the deletion flow. This now includes a pop up to confirm deletion and contextual messaging to clarify what will remain and how orders and products can be restored.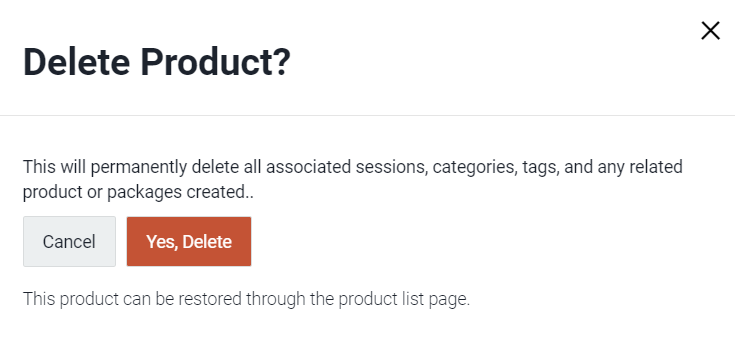 ---
Zapier API 2.0
Rezdy's Zapier connection has been upgraded to take advantage of version 2.0. This has allowed us to offer new and improved triggers for customers to integrate in to their zap's, and get relevant order and customer data from the system on demand.
Changes to existing triggers in v2.0:
'New Customer' is now known as 'Customer Created'
'New Order' is now known as 'Order Created'
New triggers created in v2.0:
Tip: If you'd like to learn more about our Zapier integration, click here.
---
Fixes & Improvements
We fixed a 500 error appearing on the 1 Click Websites
We updated validation and messaging on a number of fields throughout the application
We fixed an issue where deposited bookings were being placed in the abandoned cart
We fixed completed Smartwaiver forms showing as incomplete for internal bookings
We fixed a bug stopping reporting to be done past 2020
We fixed the order balance not updating after charging on the mobile manifest
We included Bolivian boliviano (BOB) as a transactable currency for CX Pay
We fixed Galaxy/Zoo orders returned to GYG as barcodes instead of QR codes
We tweaked some minor UI elements of the application to improve readability and usability
---
---