How To Connect to WebsiteTravel
Follow
Overview
WebsiteTravel™ Global Marketplace is a B2B Global Travel CMS with built in financial services engine that powers various front-end platforms including TravelDesk™ and hundreds of travel applications and E-commerce platforms. WebsiteTravel™ houses over 23,000 listings from 3700 global suppliers. From exploring the arctic circle to jumping on a City tour we have got you covered.
Tip: We recommend that you read our guide on making sure your Rezdy setup is OTA friendly, click here to learn more.
---
1. Initial setup: What you need to get started
---
2. Rezdy setup: Share a Negotiated Rate
Click here to load Website Travel's Marketplace profile
Click the Add Agent button
Read our T&C in regards to OTA connections and click Send Your Rates if you agree to proceed.
Scroll to Rate, Select the Negotiated Rate for this agent. Click here to learn how to create a negotiated rate.
Scroll to the bottom, click Add agent
---
Complete the Rezdy/WebsiteTravel product mapping
Important: You must have created and published products within your WebsiteTravel operator account to complete the product mapping.
Below Agent Information, there will be a message with a click here link. This will open the WebsiteTravel eBooking system setup page.

This page will contain all the information required to complete the mapping, which is divided into 2 sections; Connection level data & Product level data.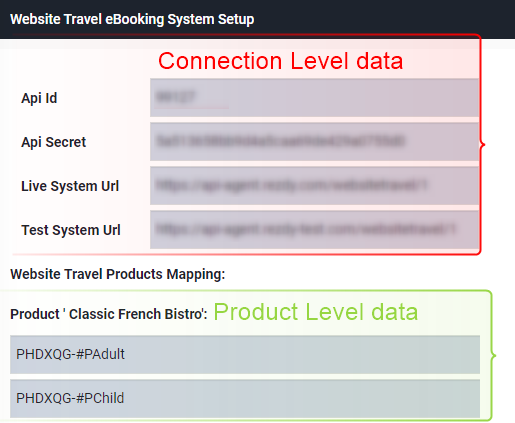 Note: The data and mapping codes are case sensitive, we strongly recommend copying & pasting this information into WebsiteTravel. Connection and product level configurations are found in separate areas within WebsiteTravel, if you need further assistance with the mapping; please reach out to your WebsiteTravel support team.
---
Future changes to product price structure
WebsiteTravel map to your Rezdy product price labels i.e. Adult and Child etc. If you change or add any price labels, you will need to complete step 2 once again.
---
---