Overview
If you want to accept payments online, you will need to have a merchant account. Bambora offers simple and safe card payment solutions. As one of the leading card payment processors in North America, we make it our mission to offer convenience, simplicity, and security
---
Setting up the integration in Rezdy
Click Settings
Click Online Payment
Select Beanstream
Enter your Merchant ID (found within your Beanstream account)
Enter your Password (this is referred to as your API passcode in Beanstream)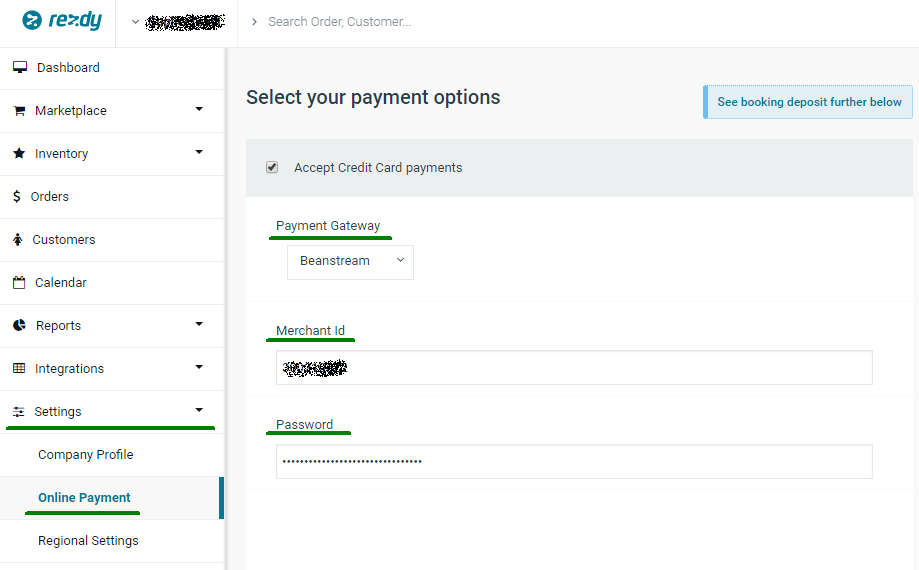 Lastly click Save at the bottom
---
Finding your Merchant ID in Beanstream:
Your Merchant ID was emailed to you when you set up your account but if you lost it you can find it again by heading to the Member Area, logging in, and copying your merchant ID located at the top-right corner of the screen.

---
Finding your API passcode in Beanstream:
Head to the Member Area and log in. Then navigate to Administration -> Account -> Order Settings. Locate the API access passcode field and copy the passcode. If one is not there, you can generate a new one by hitting the 'Generate' button.