Marketplace Set Up #1 - How to Configure Marketplace Settings
Follow
Overview
Rezdy's Marketplace allows you to sell your products globally to all Resellers and Agents in the Marketplace. By setting up Marketplace rates (and automated payments), you create a streamlined booking experience for you, your guests, and the Reseller.
---
Marketplace Profile
Your marketplace profile contains your company details and will be visible to anyone on the Rezdy Marketplace. Make sure to add as much information about your business as possible, and review before publishing.
Click Marketplace
Select Settings
Tick the box to accept the Marketplace Agreement
Click the Publish button

Note: If you are unable to publish your Marketplace profile, please contact us by clicking here.
---
Automated Payments
When setting automated payments as the payment method for agent/reseller bookings, the customer payment is automatically disbursed. Your share of the sales price will be paid out to you instantly and the commission will be paid to the agent/reseller after the booked experience has taken place.
Click the Start Setup button to begin the 3-step onboarding process (provided by RezdyPay)
Note: Setting up RezdyPay for Automated Payments does not replace your current payment gateway (located in Settings > Payments).
---
Marketplace Rates
By adding products to Marketplace Rates, you are making products available to any reseller on the Marketplace at a "public" rate. By doing so you can get bookings from new resellers, extending your distribution network. Bookings at Marketplace rates can only be paid for by Automated Payments ensuring payment to you and the reseller.
Click the Add products button

Select the products you want to sell through the Marketplace.
Choose either a Percentage or Net rate commission, enter a rate.
Optional: Tick to include Extras

Finally at the bottom, click the Save Rates button.
Important: Marketplace rates are only available to Operators using AUD, USD, NZD, CAD or EUR currencies. Please use negotiated rates for all other currencies.
---
Cancellation Policy
For bookings at Marketplace rates you need to choose a cancellation policy. Within the timeframe you set in your cancellation policy, you, the guest and the reseller can cancel a booking and all funds will automatically be refunded.
Select a cancellation policy by clicking:

Last Minute: Can be cancelled at any time before the Tour & Activity starts, up to and including the final minute.
Flexible: Allow cancellations with a full refund up to 1 day before the tour date
Moderate: Allow cancellations with a full refund up to 7 days before the tour date
Strict: Allow cancellations with a full refund up to 30 days before the tour date
None: No cancellation and No Refund

Lastly, click the Save button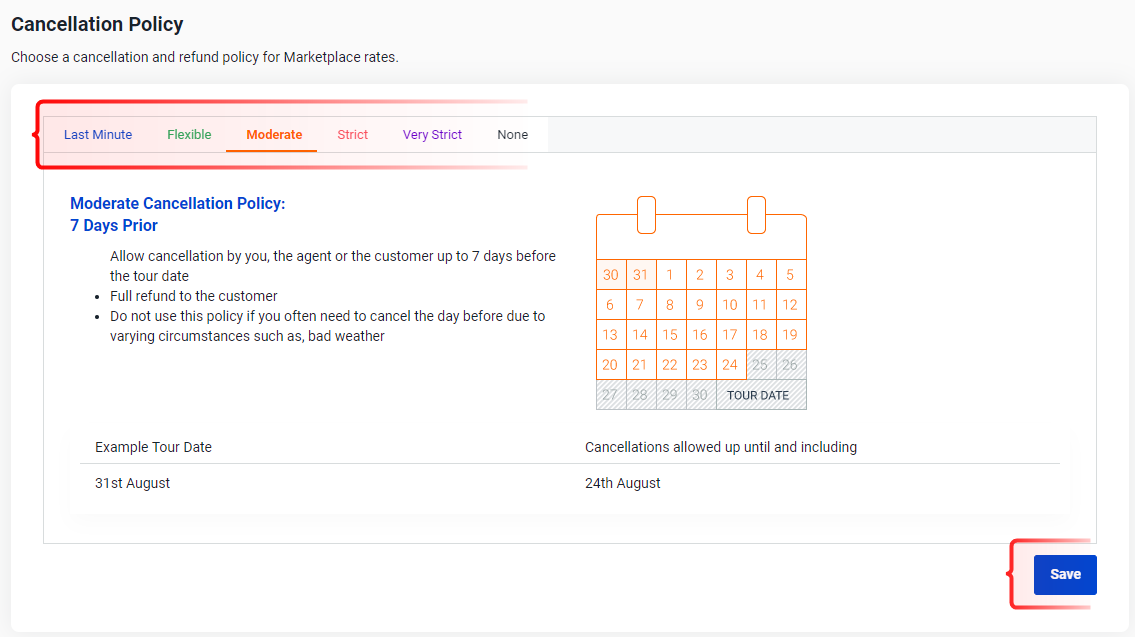 ---
Frequently Asked Questions
Does setting up RezdyPay for Automated Payments replace or change my current payment gateway?
No. Your payment gateway (Settings > Payments) will continue to process payments for direct bookings.
How secure is RezdyPay?
RezdyPay meets and exceeds the most stringent industry standards for security. Stripe is also audited by a PCI-certified auditor, and is certified to PCI Service Provider Level 1. This is the highest level of certification available. You can learn more about the technical details of Stripe's secure infrastructure at: https://stripe.com/docs/security/stripe
How long does the setup process take?
The account verification process should take up to 4 business days. In case of any issues you will be notified via email.
How will I be notified of any required actions?
If any action is required, you will be notified via email.
Why do I see a 'Further Information Required' message?
This means you still need to verify your identity. Click the Add Information button to verify your identity. Click here to learn more.
I have completed my (RezdyPay) setup, how do I change or update my connected bank account?
Are there any fees or costs of using Marketplace Rates?
Yes. Rezdy takes a 2% fee from the Agents commission to supply and maintain the secure payment connection between you, your customers, and your Agents. This means that if you share a Marketplace rate at a 20% commission for a product, the Agent will receive 18%.
I am new to Rezdy, I do not see the Automated Payments, Marketplace Rates or the Cancellation Policy sections, why?
These sections only apply to Operators using AUD, USD, NZD, CAD or EUR currencies. You can still advertise your products on the Marketplace, but you will need to use Negotiated Rates.
---
NEXT ARTICLE
Marketplace Set Up #2 - Updating your Marketplace Profile
Learn how to update your Marketplace Company Profile. This profile will be visible to other operators and agents in Rezdy's Marketplace once published.
---
---