How to setup Automated Payments as an Agent
Follow
Overview
Rezdy has partnered with Payoneer to allow Resellers & Tour Providers automate payments and commission payouts using Rezdy's Marketplace. Click here to learn more about Payoneer
---
Connect or Create a Payoneer Account
Click Marketplace
Click Settings
Click the Create a Payoneer account button to create a new account.
If you already have a Payoneer account, click the Connect your Payoneer account button instead
You will be redirected to Payoneer to sign up a new account (or sign in to an existing account)

---
Payoneer Sign Up
During the signup process, you will be guided through 4 main steps:
Getting Started: Select the type of business i.e. Individual or Company, name etc.
Contact Details: Contains address information, you'll need a mobile number handy to receive the verification code.
Security Details: Create a password, select the type of ID.
Almost Done: Nominate your bank account.
Important: It is critical that the First name & Last name you enter in step 1 (Getting Started) is identical to the Account Holder Name you enter in step 4 (Almost Done)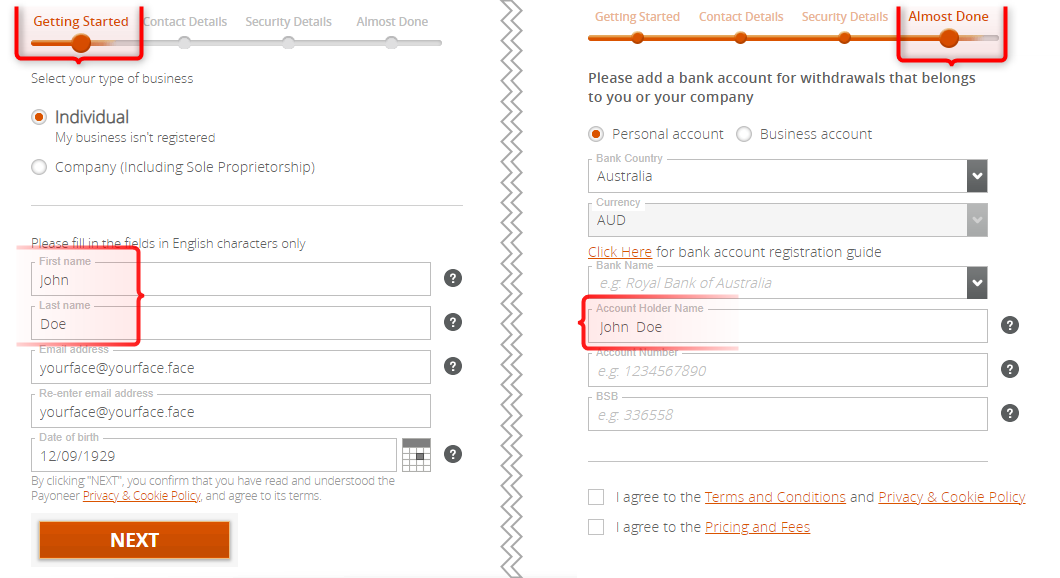 Once submitted, Payoneer will review your application. If required, Payoneer will request additional information via email. You will need to submit this information or documentation in the Payoneer verification center which you can access from the email.
Note: Approving your bank account details by Payoneer can take anywhere between 3 to 10 business days. If it has been longer than 10 business days, feel free to reach out to their customer support team for more details
---
Frequently Asked Questions
What happens after I register?
Your application will be reviewed by the Payoneer team. New applications are usually reviewed immediately. Once approved, you will receive an email confirmation with further details and you will be able to receive Rezdy payments directly to your Payoneer account. In some situations, you may be asked to provide extra details e.g. Government issued ID, a Certificate of Incorporation, bank statement or other documents.
If I apply for the service, what are my costs and obligations?
There are no monthly/annual fees or obligations for the Global Bank Transfer service.
How long will it take for a payment to be transferred to my bank account?
Processing time may vary, depending on your country. The estimated time for local transfers is 1-3 business days.
Can I apply to receive payments to a bank account not in my name?
If you wish to receive payments to your bank account, you must provide a bank account in your name or an account that you own. If you own an account that is not in your name, we may request that you provide supporting account ownership documentation.
How much does a commission payout cost?
You can withdraw funds from your Payoneer account in all supported payment methods, bank transfer, Pre-paid debit card etc. Charges per payout will depend on currency:

USD $1.5
AUD $2
NZD $2.5
EUR €1.2
CAD $2.5
Note: For withdrawals in currencies not supported by Rezdy automated payments, additional 2 percentage points foreign exchange charge will be charged on top of daily mid-market FX rate (see xe.com for rate)
---
---