Marketplace Set Up #3 - How To Set Up Marketplace Rates
Follow
Overview
Marketplace rates allow you to sell your products to any Rezdy reseller (not including Online Travel Agents) within the Marketplace. Rezdy automatically manages the payments between you, your customer, and the Agent.
Important: Marketplace rates are only available to Suppliers using AUD, USD, NZD, CAD, or EUR currencies. For other currencies, please click here to learn more about negotiated rates.
---
What do I need to get started?
If you haven't done so, please read Marketplace Set Up #1 - How to configure Marketplace Settings before continuing with this guide on Marketplace rates.
---
Are there any fees or costs of using Marketplace rates?
Yes. Rezdy takes a 2% fee from the Agents commission to supply and maintain the secure payment connection between you, your customers, and your Agents.
This means that if you share a Marketplace rate at a 20% commission for a product, and an Agent makes a booking for that product; they will only receive a 18% commission.
---
How to set up a Marketplace Rate
Click Marketplace
Choose Marketplace Rates
Tick the Products you want to sell through the Marketplace
Select from either percentage or net rate commission structure, fill in the rate.
Optional: Tick to include extras.
Click Save Rate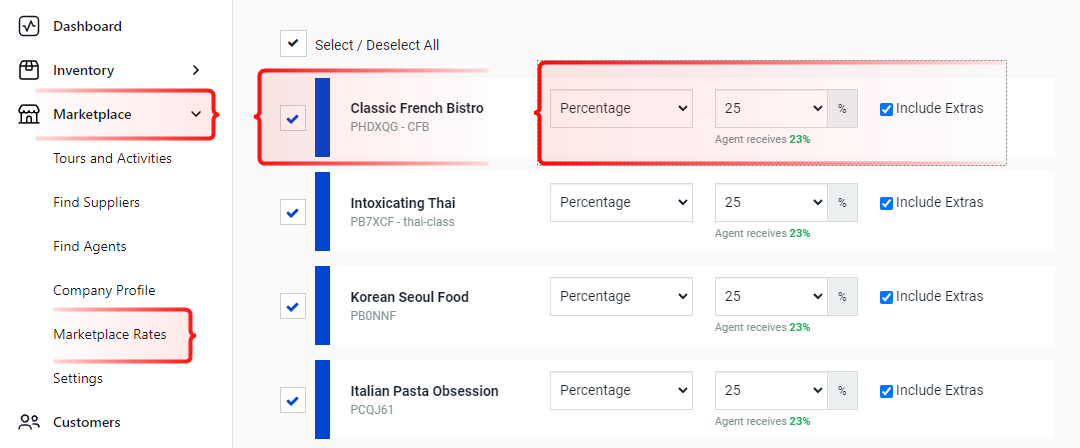 NEXT ARTICLE
Learn how to find and add agents, and start getting bookings coming in from agents domestically and internationally.
---
---