Viator, a TripAdvisor company, is the leading global tours and activities provider for travellers, delivering online and mobile access to thousands of curated trip activities including tours, attractions, shore excursions and private guides, in more than 1,500 destinations worldwide.
You must register an account with Viator before you can establish a connection between Rezdy and Viator.
---

PLEASE NOTE: The actual configuration of rates and commissions is done within Viator during the initial sign up process.
The following procedures within Rezdy simply allows;
Orders to be created automatically within Rezdy
Order totals and commissions to be calculated correctly within Rezdy.
Orders will be processed by Manual Payments only (there is no added service fee since Viator handles all payments)

IMPORTANT: When changing Session start times within your Rezdy Calendar for Products connected to Viator: 
You must alert your Viator Destination Manager of these changes otherwise Viator will no longer be able to see your availability
---
STEP 1
Create a Negotiated Rate catalog
Select Products
Set Commissions
1. Click Agents
2. Click My Negotiated Rates
3. Click New Negotiated Rate

within the New Negotiated Rate screen:
4. Name the New Negotiated Rate accordingly
5. Select Products and set the Commissions
6. Click Create Catalog


---
STEP 2
1. Click Marketplace
2. Click Agents
3. Search for Viator, click the Profile button (below is the direct link to their Profile)
https://app.rezdy.com/profile/viator

Within the Profile page for Viator:
4. Click Rates
5. Click Send Your Rates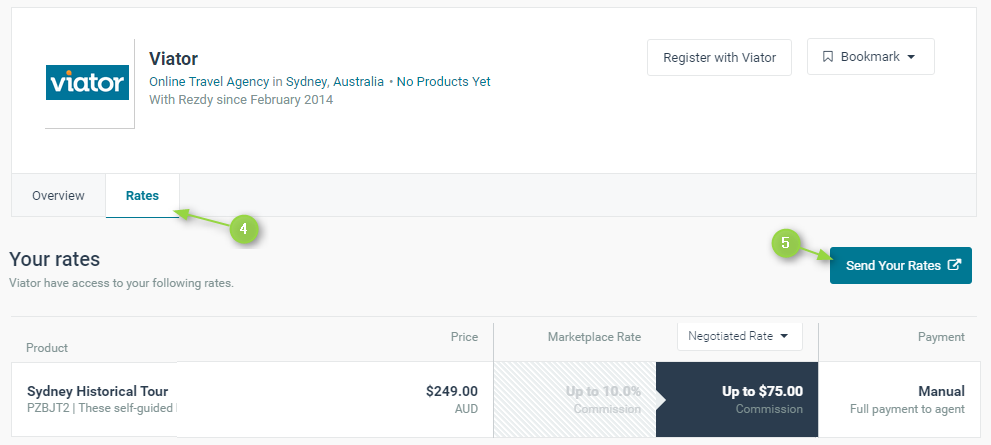 Send Your Rates
6. Tick the Negotiated Rate
7. Click Continue


Agent Terms and Permissions
8. Enter a unique Agent Code for Internal uses i.e. Reporting and tracking of Orders
9. Click Continue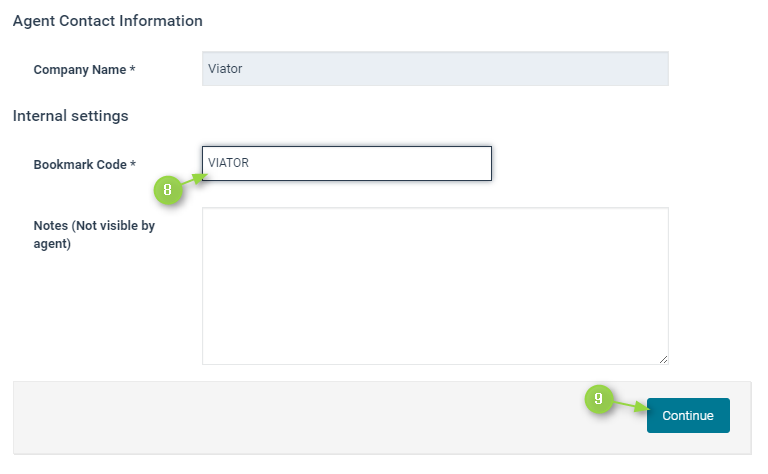 Your Message
10. Personalise a quick message (optional)
11. Click Send Agent Catalog

---