Rezdy allows you to send and receive SMS (text messages) in addition to Emails. You can setup SMS for different scenarios:
Receive a notification when you get a new booking
Send a confirmation to your customers when they make a booking
Send a reminder SMS to your customers
Send a follow-up SMS to your customers
Please note SMS fees will be added to your monthly subscription charge
Price:
0.09$ per SMS sent to United States and Canada
0.19$ per SMS to Australia and New Zealand
0.29$ per SMS to other countries
SMS fees will be charged monthly at the same time than your subscription payments
Notes: 
The SMS will be sent to the company mobile number defined in your 

Company settings
The SMS to the customer will be sent with the International Code that the customer provides in the Mobile Phone fields.  If it's not provided, then we send the SMS with an International Code based on the Country that the customer provided.  And, if the customer's country is blank or if you do not collect that information from the customer, then we base the International code on the country you have setup in your Settings tab. 
Within a Product setup, click the Messages tab:
Notifications
You're able to automate an SMS when you receive an Order
You're able to automate an SMS to the Customer to confirm the Order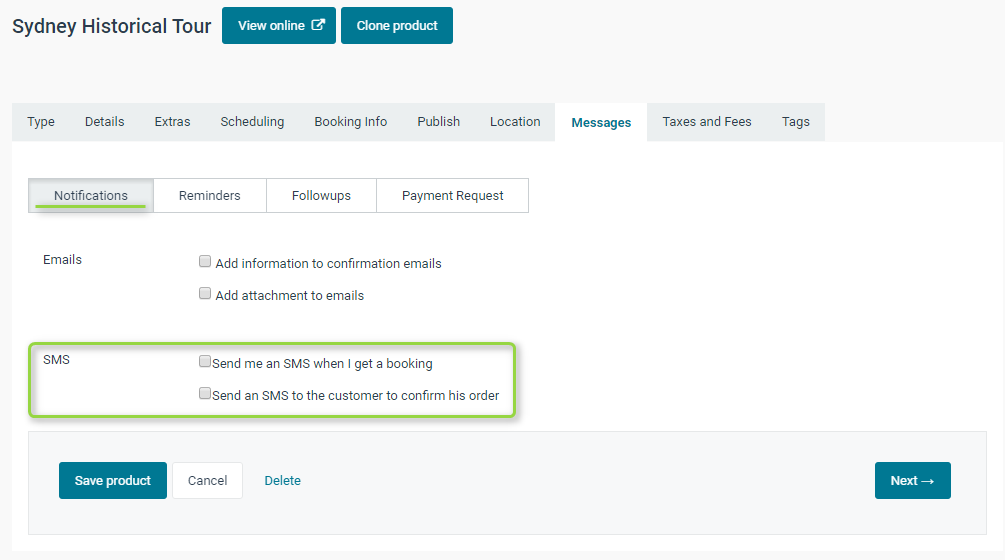 Reminders
You're able to automate a reminder SMS either minutes, hours, or days before the Tour date

Followups
You're able to automate a follow up SMS either minutes, hours, or days after the Tour date