Different Google Tracking Tools
Please note that Cross-Domain tracking is a Google Analytics feature. You can read the full tutorial from Google. We recommend consulting a web developer to assist.
Adwords: This requires you to enter the Adwords conversion tracking code provided by Google in Rezdy's Conversion Tracking app. See this tutorial for more details. Your conversions will then be visible in your Google Adwords account.


Analytics E-commerce: This requires you to tick the checkbox in your Rezdy's Google analytics app

settings. Rezdy will then automatically send new Online booking details to Google. Your e-commerce transactions will then be visible in your Google Analytics account.

---
Adwords and Analytics are different products, they can be used separately. However, you can also link your Adwords account with your Analytics account in order to see Adwords conversions in your Analytics account. Please read this tutorial from Google to understand the steps required.
After linking your accounts, you may not see all conversions in your Analytics account. That's because conversions and analytics are usually tracked per domain. For example if you have an ad that redirects to www.mycompany.com, and the conversion happens on mycompany.rezdy.com, you will need to implement cross-domain tracking.
---
Cross-domain Checklist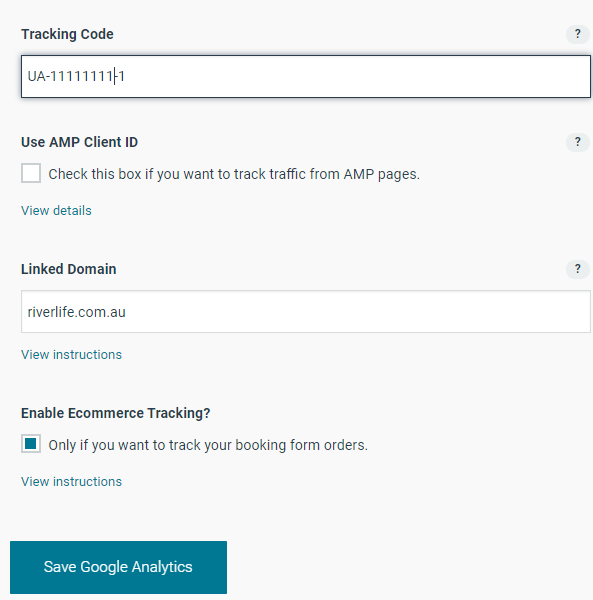 1. Ensure you have your GA tracking code filled in
---
2. Enter you linked domain as your website's address
---
3. Ensure Ecommerce tracking is enabled
---
4. Recommended for iFrame integrations
If you are using iframes to integrate the Rezdy booking form on your Website (I.e. our Product Details widget), Google's auto Linker plugin will not work.
You need to implement a more advanced solution, as per Google's instructions. A listener is automatically added on Rezdy's end, but you must add extra code on your main domain to send messages. 
We've provided a sample code, note it is an example and may need to be customized further depending on your website. For example, you may have plugins or errors that can conflict with that script. A JavaScript developer will understand it and can fix issues if things don't work as expected. 
Replace https://myalias.rezdy.com with your Rezdy URL.
Integrate this code on either in your header/footer (this needs to be on every page).
Set the script to trigger on window loaded DOM Ready.
<script>
function check_ga() {
  if (typeof ga === 'function') {
     ga(function(tracker) {

       // When using Google Tag Manager there is no default tracker
       if (tracker == undefined) {
         tracker = ga.getAll()[0];
       }

       // Gets the client ID of the default tracker.
       var gaClientId = tracker.get('clientId');

       // Gets all iframes on the page
       var rezdyElements = document.getElementsByClassName('rezdy');

       for (var i = 0; i < rezdyElements.length; i++) {
         if (rezdyElements[i].contentWindow) {
             
             // Wait for Iframe receiver to be loaded
             rezdyElements[i].addEventListener("load", function() {
               // Make sure you use your own company Alias here
               this.contentWindow.postMessage(gaClientId, 'https://myalias.rezdy.com');
             });
         }
       }
    });
  } else {
    setTimeout(function(){check_ga();},500);
  }
}
check_ga();
</script>