How to connect Rezdy with Zapier
Follow
Zapier enables you to automate tasks between Rezdy and other online apps (like Mailchimp, Xero or Twilio). They currently support over 250 applications.
For example, you could:
Connect Rezdy and Twilio, to receive an SMS every time you receive a booking on Rezdy

Connect Rezdy and Mailchimp, to send your customer details to Mailchimp when they are created on Rezdy

Connect Rezdy and Xero, to create new Xero invoices when you receive bookings on Rezdy

And much more!
Here are some Tutorials on how to Set up Zapier with MailChimp, Quickbooks ,Xero, Twilio 
To see a full list of Apps that work with Zapier: Service Directory
---
1. Click Integrations
2. Click Third Party Apps
3. Click View Details for the Zapier App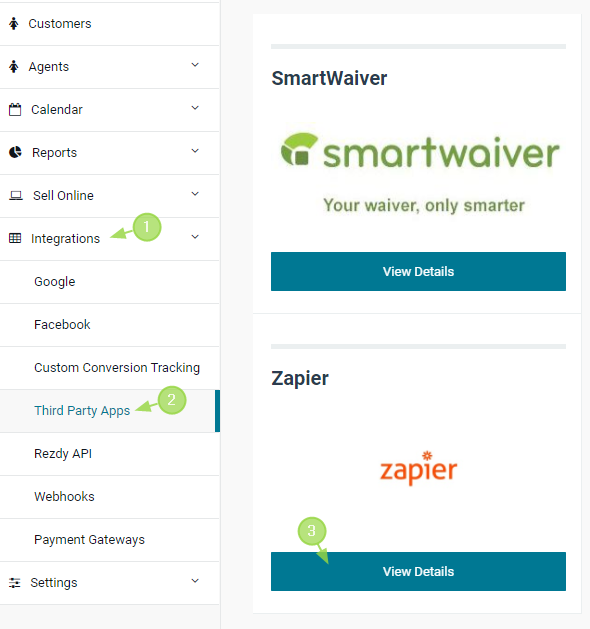 within the Zapier Settings page, scroll down and click the Generate Key button

---
Setting up Zapier
Go to: https://zapier.com.
Click "Sign up" or "Log in"
If you do not have a Zapier account, Click "Sign up" 
Enter in your Email, First and Last Name, and a password
Next, click on "Make a Zap"
Choose Rezdy as the Trigger App
 Click  Continue
Configure your Rezdy account
Enter the API Key from your Rezdy settings
Click on Continue, Zapier will check if the Api Key is valid.
Verify your Rezdy account
Click Continue, your account is now verified.