How To Connect Rezdy to Zapier
Follow
Overview
Easy automation for busy people. Zapier moves info between your web apps automatically, so you can focus on your most important work. You can connect your Rezdy account to over 1,500 apps via Zapier. For example, you could:
Connect Rezdy + Twilio, to receive an SMS every time you receive a booking on Rezdy
Connect Rezdy + Mailchimp, to send your customer details to Mailchimp when they are created on Rezdy
Connect Rezdy + Xero, to create new Xero invoices when you receive bookings on Rezdy, and much more.
---
How it works
There are 3 events within Rezdy that will trigger zaps to over 1,500 apps via Zapier:
Order Created: Triggers when a new order is created, this includes online orders, internal orders and orders in the Marketplace.
Order Updated: Triggers when an existing order is updated.
Customer Created: Triggers when a new customer is created. This will also be triggered when an order is created for a new customer.
---
Generate API Key within Rezdy
Quick Navigation: Integrations > Third Party Apps > Zapier
On the Zapier details page, click the Generate Key button. Copy this key to your clipboard.

---
Get started with Zapier
Log into your Zapier account to get started: https://zapier.com/app/dashboard. If you do not have a Zapier account, check out their pricing and sign up today!
Note: When you create your first zap, you will need to connect your Rezdy account to your Zapier account using your Rezdy API key (scroll up to see how to generate)
Within the Zapier access window, paste your API key and click the Yes, Continue button.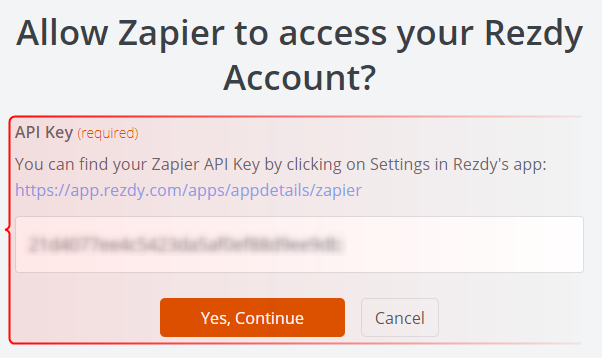 ---
Rezdy + Zapier Templates
On the Rezdy + Zapier landing page you'll find several templates that provide automated solutions for your business, including:
---
---