Overview
Sessions are blocks of time that dictate when your tour starts and finishes. Through sessions you can manage start/end times of your tours, pricing, resources, availability and orders for that session. Products using Fixed dates & times will need sessions created to operate.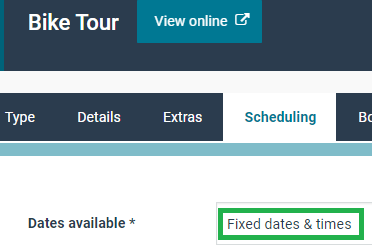 ---
Creating Sessions
There are two ways to make sessions.
1. New Session
Click Schedule
Click Calendar
Click New Session


2. Empty Session Space - this way will preload the date and time for you (only works if session space is empty on calendar). 
Click Schedule
Click Calendar
Click into a corresponding empty area of the calendar
Click Create Session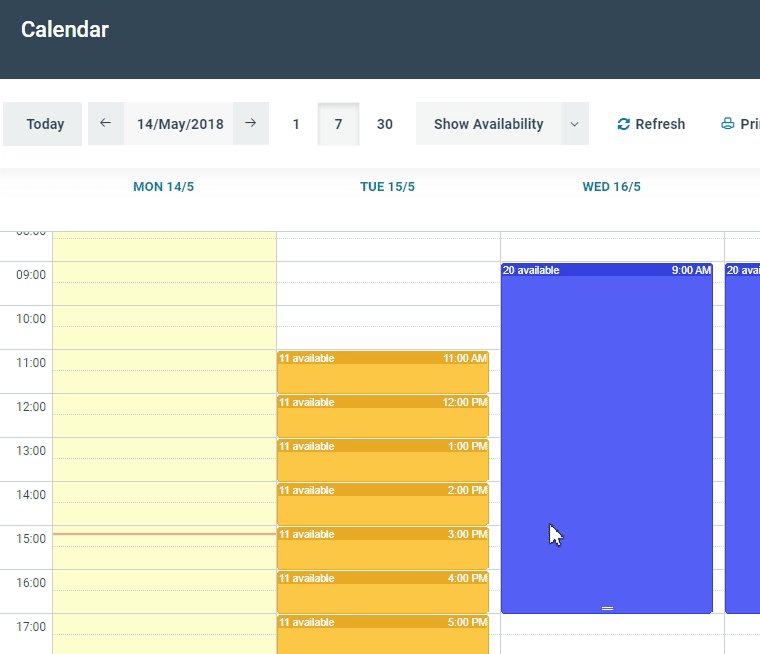 ---
New Session Navigation
Select a Product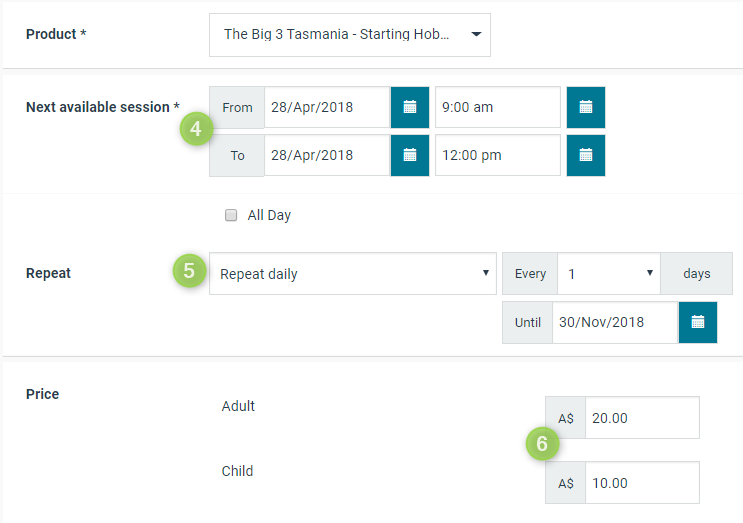 ---
Next Available Session
Next Available Session: Select the next available start and finish date for your first session. If your session has a start and finish time then select fill in that as well.

If your session runs for 24 hours (12am-12am) then tick the All  Day box. You will lose the ability set a start and end time. 
---
Repeat
Select from one of the repeat options to repeat your sessions into the future. In the picture example; this session will repeat every day until the 30th NOV.
If you have seasonal pricing then create your sessions by blocks of your seasons.

Low Season example for APR - JUN pricing should look like this.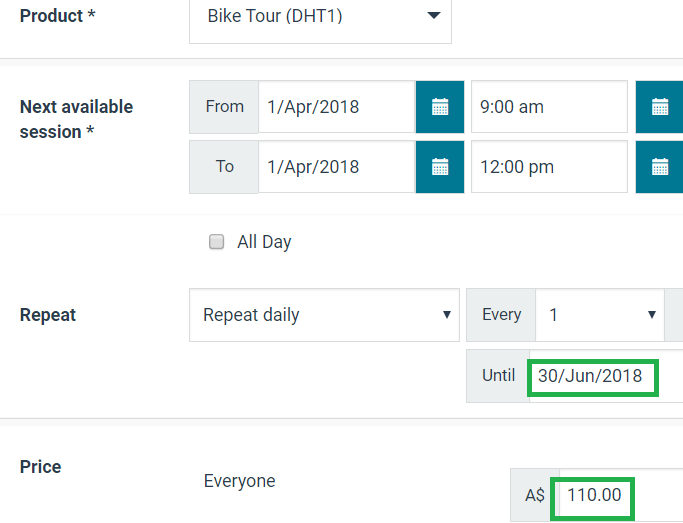 High Season example for JUL - SEP pricing should look like this.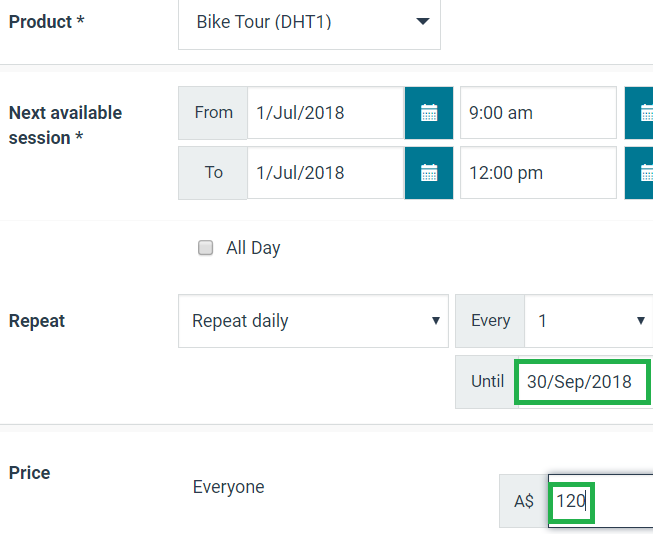 Not using resource: You can repeat up to 12 months into the future starting from your Next Available Session date.

Using resource: You can repeat up to 7 months into the future starting from your Next Available Session date.
---
Price
This is automatically set based off the prices in the product settings. You can adjust pricing on a per session level or for blocks of sessions (high/low season). 
---
Resources (optional)
Click a resource on the right to assign it, it will appear on the left. You can also add all or remove all at the top.
Recommended read: Resource Type & Availability Guide to get the most out of your resources.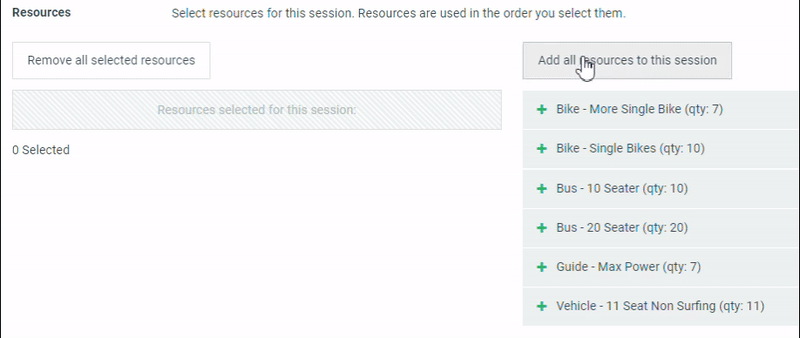 Note: Highlighted box shows what it should say if your product was set up as Limited - By resources per session. Products like this need a resource to have availability.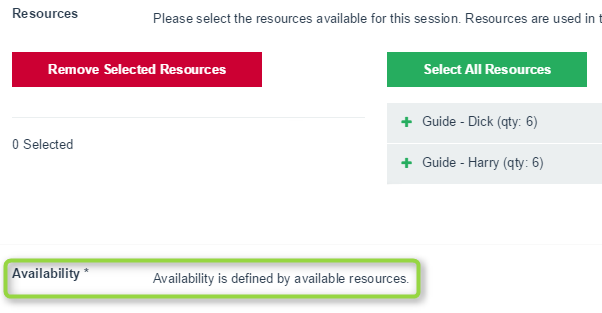 ---
Availability
There are two types of availability.
Fixed Limit Availability: If a product is setup as Fixed Limit per session, you have the ability to artificially lower the availability or close it off completely. If your session is using a resource, the availability cannot be set to a higher limit then the resources availability.
Here a session with a 7 spot availability is reduced to 4. Note: Trying to set the availability above 7 will still show 7 availability.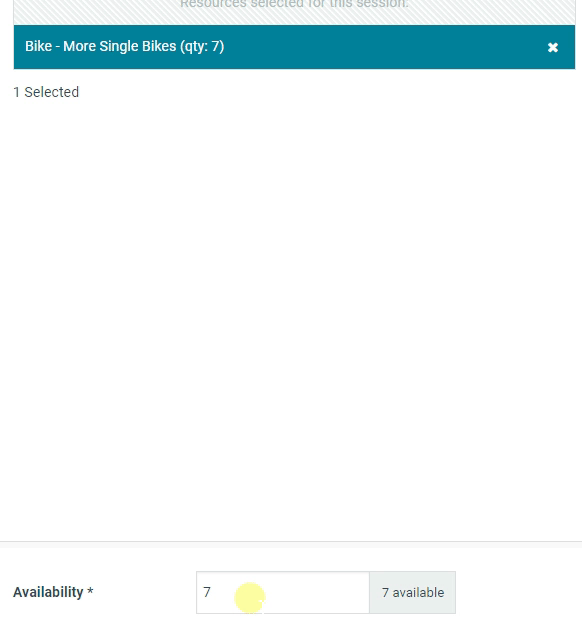 Resource Availability: Products that are By Resource will require resource(s) to control availability, you add/remove resources to adjust availability. You don't have finer control over it compared to Fixed limit availability.

---
Internal Notes
Used for entering internal notes specifically related to the session. After entering your notes it will be readable from different areas in the calendar, manifest and agenda.