What are Sessions?
Sessions are blocks of time that dictate when your tour starts and finishes. Through sessions you can manage start/end times of your tours, pricing, resources, availability and orders for that session. 
Products using Fixed dates & times will need sessions created to operate.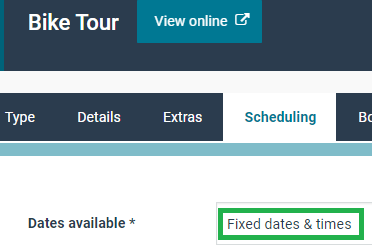 ---
---
Making Sessions: There are two ways to make sessions.
a) New Session.

Click Schedule
Click Calendar
Click New Session


b) Empty Session Space - this way will preload the date and time for you (only works if session space is empty on calendar). 
Click Schedule
Click Calendar
Click into a corresponding empty area of the calendar
Click Create Session
Example Scenario
Here is the creation of a session for the 15th May at 9 AM. This in only possible when the time slot in the date is empty, so doing this for 16th May at 9 AM would not be possible.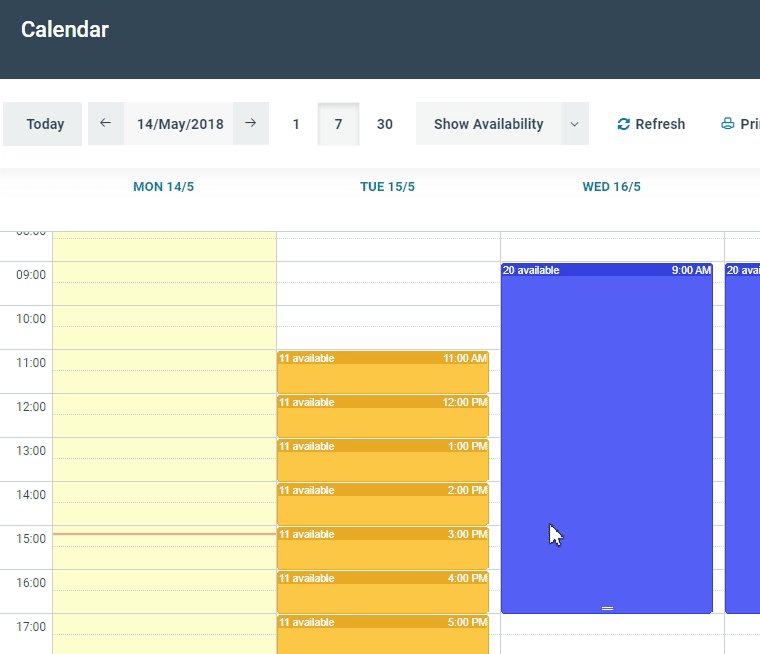 ---
New Session Navigation
Select a Product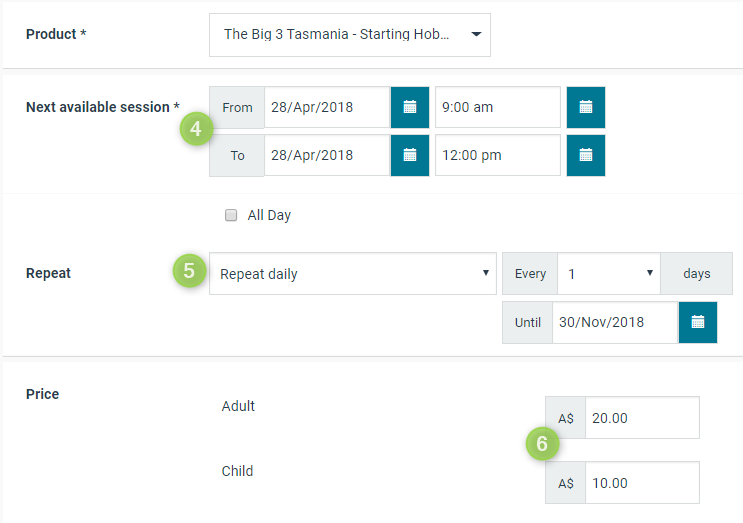 ---
Next Available Session
Next Available Session: Select the next available start and finish date for your first session. If your session has a start and finish time then select fill in that as well.

If your session runs for 24 hours (12am-12am) then tick the All  Day box. You will lose the ability set a start and end time. 
---
Repeat
Select from one of the repeat options to repeat your sessions into the future. In the picture example; this session will repeat every day until the 30th NOV.
If you have seasonal pricing then create your sessions by blocks of your seasons.

Low Season example for APR - JUN pricing should look like this.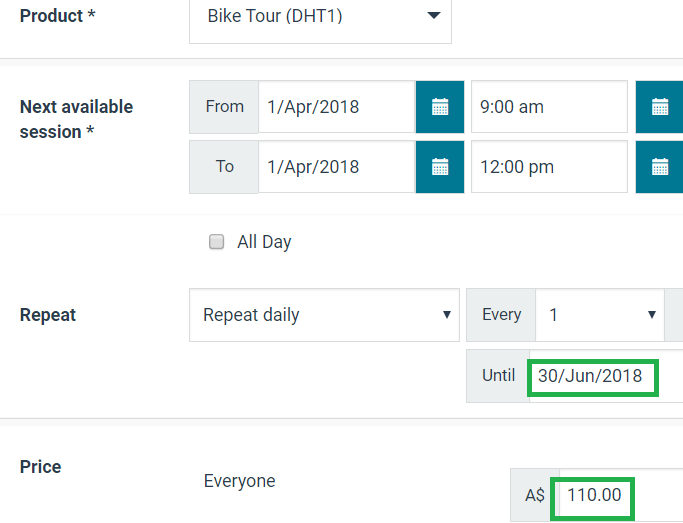 High Season example for JUL - SEP pricing should look like this.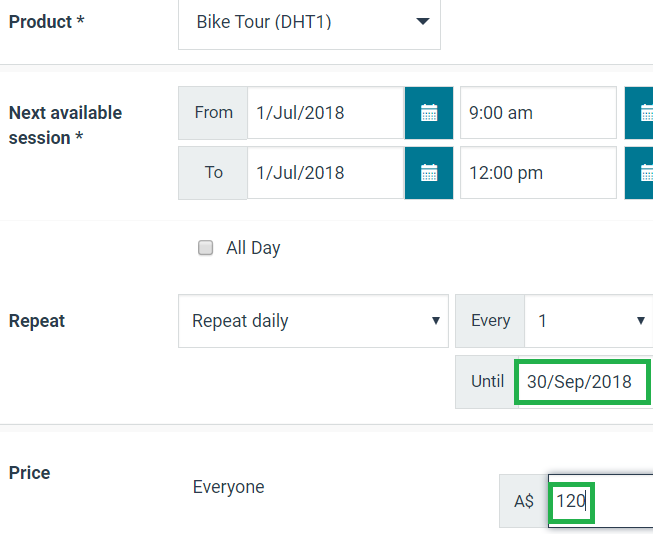 Not using resource: You can repeat up to 12 months into the future starting from your Next Available Session date.

Using resource: You can repeat up to 7 months into the future starting from your Next Available Session date.
---
Price
This is automatically set based off the prices in the product settings. You can adjust pricing on a per session level or for blocks of sessions (high/low season). 
---
Resources (optional)
Click a resource on the right to assign it, it will appear on the left. You can also add all or remove all at the top.
Recommended read: Resource Type & Availability Guide to get the most out of your resources.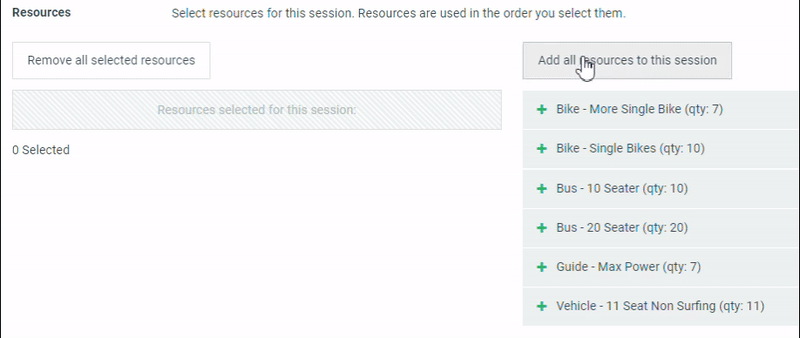 Note: Highlighted box shows what it should say if your product was set up as Limited - By resources per session. Products like this need a resource to have availability.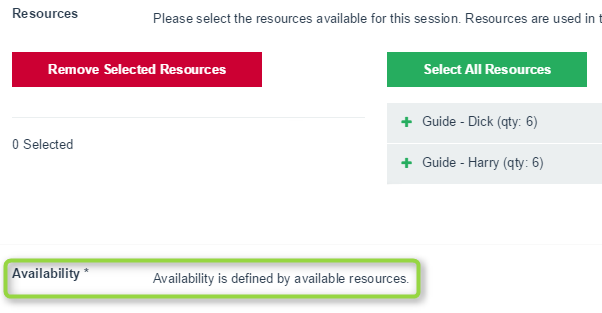 ---
Availability
There are two types of availability.
Fixed Limit Availability: If a product is setup as Fixed Limit per session, you have the ability to artificially lower the availability or close it off completely. If your session is using a resource, the availability cannot be set to a higher limit then the resources availability.
Here a session with a 7 spot availability is reduced to 4. Note: Trying to set the availability above 7 will still show 7 availability.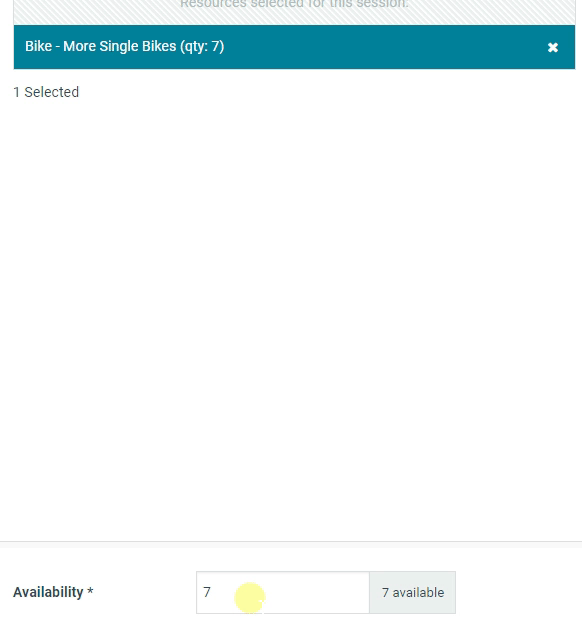 Resource Availability: Products that are By Resource will require resource(s) to control availability, you add/remove resources to adjust availability. You don't have finer control over it compared to Fixed limit availability.

---
Internal Notes
Used for entering internal notes specifically related to the session. After entering your notes it will be readable from different areas in the calendar, manifest and agenda.

Calendar: Sessions with this paper clip icon indicate there is an internal note, you can over your mouse over it to quickly read the internal note.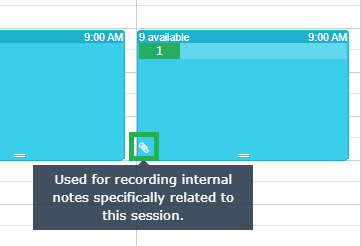 Alternatively you can click on the session to read the note in full.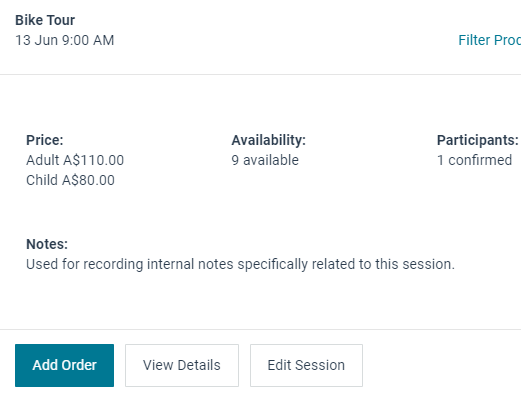 Manifest: Notes will automatically be displayed.
Agenda: Same as the calendar the paperclip icon indicates a note.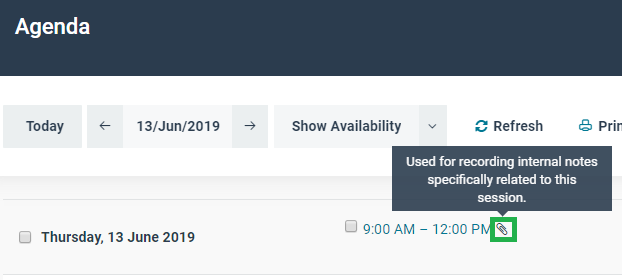 Clicking on the session time will open up a window to allow more easy reading of your notes (relevant for long notes).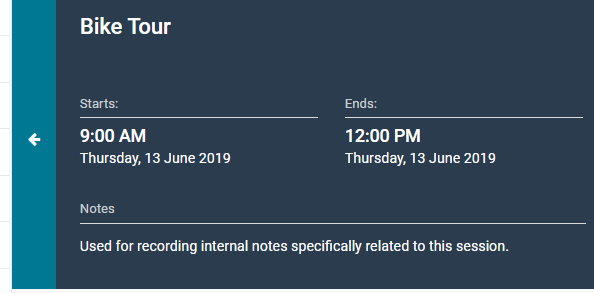 ---
Create Session
Will create your work of art session(s), be sure to double check before clicking!

---
FAQ

Q. How do I make sessions that for 2-3 years +?

A. You'll need to make multiple repeating sessions, read our guide here for shortcuts!


Q. How do I make seasonal pricing?

A. Please read about Repeat.