eWAY recently launched eWAY merchant services, which signs you up for an Internet Merchant Account and a Gateway. This removes the need to set up a Merchant Facility with a bank, because you can do it all through eWAY. This can be set up in 4 days.
However, many small businesses do have a merchant account in place. In this case, the Customer Success Team is very proactive to help get merchants set up with difficult questions, especially if they still go down the path of dealing with banks. They will deal with the banks on your behalf.
Support:
Support-wise, eWAY has free 24-hour support so you can contact them any time. They also have a handy chat box that pops up on their website that connects you to someone who can help.
Pricing: 
eWAY costs from as little as $1 per day plus a small processing fee for each transaction. You get 24/7 support, a dedicated success manager, every essential feature, setup and much more all included in the price.
1. Click Settings
2. Click Payment Options
3. Tick Accept Credit Card payments
4. Select Eway
5. Enter your Customer ID, Username and Password.
Please Note: We require the API Password, and not the Password you use to log in to your eWay system. To create an API Password, within your eWay system:
1. Click My Account
2. Click eWay Passwords
3. Click API Password
4. Enter and confirm the details for the new API Password

6. Select the Credit Cards you accept, CCV, and/or adjust Credit Card Surcharges.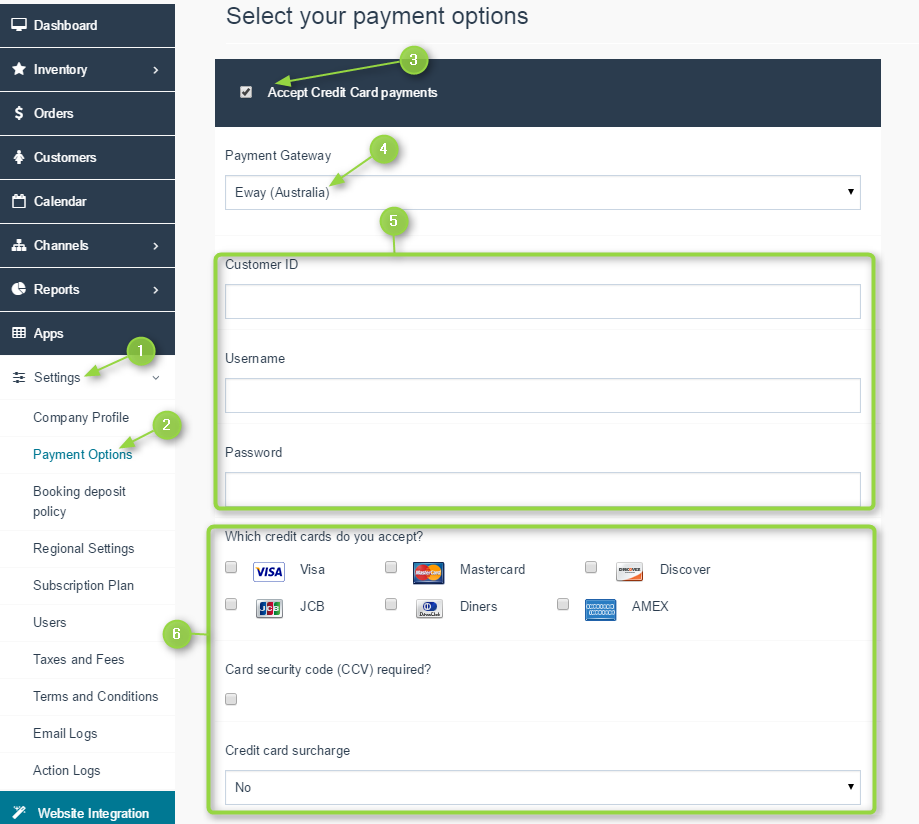 Finally, click Save. The system will automatically check the Eway credentials by sending a quick message to Eway, if an error is received, then you have entered the incorrect details. If you receive a successful message, then basically your Payment Gateway is set up correctly and ready to be used online!