How To Create a Transfer, Shuttle or Flight
Follow
Overview
The Transfer, shuttle or flight product type is perfect for multi-leg transportation services, or shuttle services from point A to point B one-way and return. It also comes with a specific booking widget for website integrations; click here to learn more about this integration.
This article will only discuss the following:
Details Tab - Return Product & Product Pricing settings
Location Tab - From and To settings
As these settings differ to other types of products. For information on any other tab or sections, please click here to learn more.
---
Details Tab - Return Product & Product pricing
Before you can set a Return Product option, you must have at least 2 Shuttle type products created. We recommend cloning products, and changing the product titles, descriptions, and photos accordingly.
This is not only a quick way to create additional products, but it also keeps the same pricing options as the original product.
Note: Setting a Return Product and Round-trip price are both optional.
Return Product
Once you have cloned your shuttle product, you can then set the Return Product

Product Pricing - Round-trip
Once you have set a Return Product, you can then set the Round-trip price for each price option.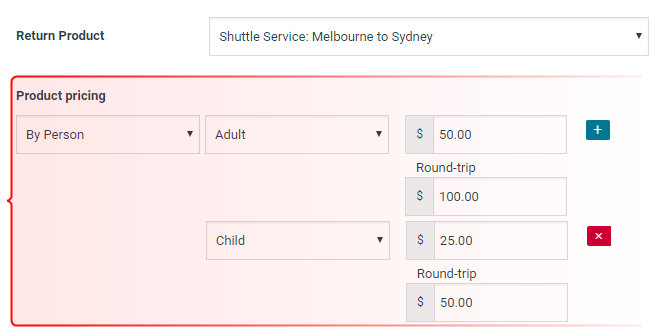 Important: Pricing options between the 2 shuttle products must match e.g. Adult, Child.
---
Location Tab - From and To
Setting up From and To locations is optional, however it allows your customers to select From and To options during the booking process: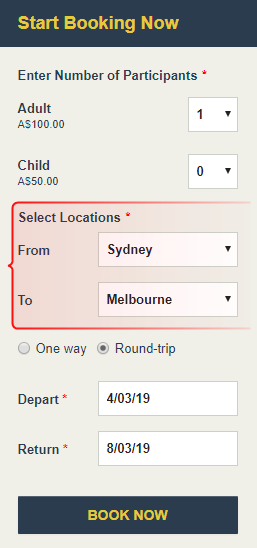 The From/To locations will depend on the type of transfer service you are providing. You can create as many From/To locations as you need.
From the Location tab
Enter the location Name
Set the Show in From/To list
Click the Add another location button to add more From/To locations.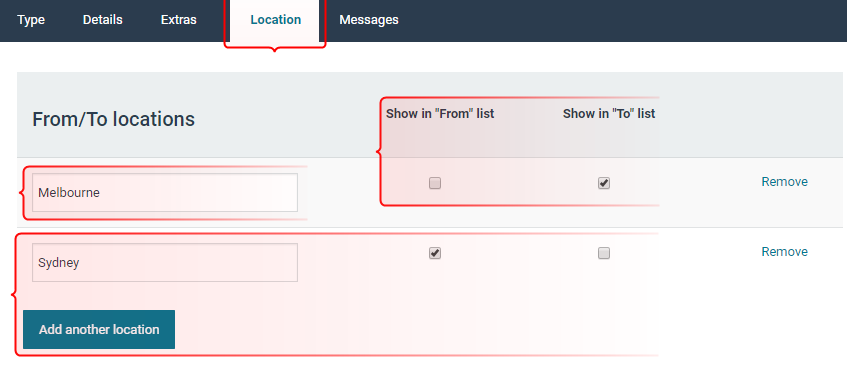 ---
---