Overview
Whether you're in the office or on the road, you need a practical solution that keeps your tour business at your fingertips. With our mobile manifest, you can manage bookings, accept payments, update your manifest, and communicate with customers - all on the go!
---
How to save your Rezdy credentials to your browser or mobile device
Saving your Rezdy credentials will prevent you from having to log in each time. You can use one of the following methods, depending on your device and the browser you're using:
Browser-based password storage: To enable password storage in your browser, go to settings and find the password manager or auto-fill section. Then, enable the feature and adjust the settings as per your preference. Then simply log in to Rezdy and let the browser prompt you to save your login information.
Device-based password storage: To store passwords on your mobile device, use the built-in password manager (e.g. iCloud Keychain or Samsung Pass) or download a third-party app. Enable the password storage feature in your device settings and add your login credentials.
Note: If your preferred browser does not have the option to store passwords, you'll need to use the device based method.
---
How to access the mobile manifest
Browse to https://m.rezdy.com/ using your preferred internet browser on your mobile device.
Log in with your Rezdy credentials, done!


If you have multiple Rezdy accounts, you will be taken to the organisation selection screen to select an account
Click the Mobile Manifest button

Tip: If you haven't done already, make sure to set up and enable password storage on your device or browser, click here to learn how.
We've also added a quick link from the Dashboard: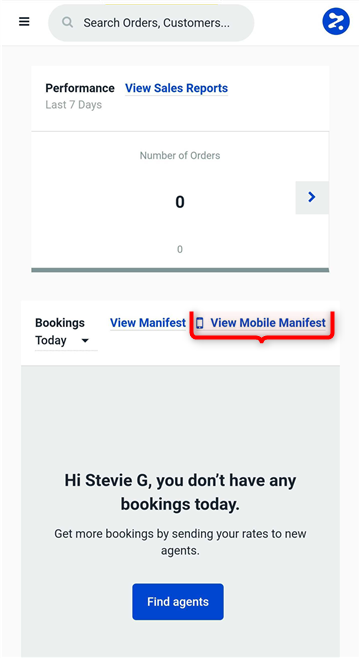 ---
How to save the mobile manifest to your home screen
After you have logged in, you can save the mobile manifest as a shortcut to your mobile device's home screen for quick access. Each device or browser will differ:
Android devices: Within your browser, tap the 3 dots usually located top right.

Then select the 'Add to home screen' option.

iOS devices: Within your browser, tap the icon in the menu bar.

Then select the 'Add to home screen' option.
Note: If you're having trouble finding the "Add to home screen" option on your device or browser, keep in mind that each device and/or browser can differ. You can search online for guidance or check the browser's help section for more information.
---
Frequently Asked Questions
If I previously downloaded/installed the Rezdy app from a store, can I still use it?
Yes. However, if you uninstall the app from your device; you will not be able to download it again.
---
---