What Is Limit Availability by Price Option and When To Use It
Follow
Overview
This feature allows you to set limits on specific pricing options i.e. Adult & Child. This is handy if and when you have a specific amount of seats that cater to a certain group e.g. Adult & Child, or when you have a set amount of a particular Resource e.g. Large, Medium, and Small bikes.
Please Note: This feature is not available for Rental or by Minute, by Hour, by Day pricing type Products.
---
Limited - Fixed limit per price option
A common use for this would be to simply limit the amount of Child seats you want to be booked on any given day. In the below example:
1. The ship can seat a maximum of 100 people
2. There is no restriction on the amount of Adults, Seniors or Concessions that can be seated on any given day e.g. 50 Adults & 30 Seniors & 20 Concessions or 20 Adults & 80 Seniors.
3. There is a maximum of 10 Child seats bookable on any given day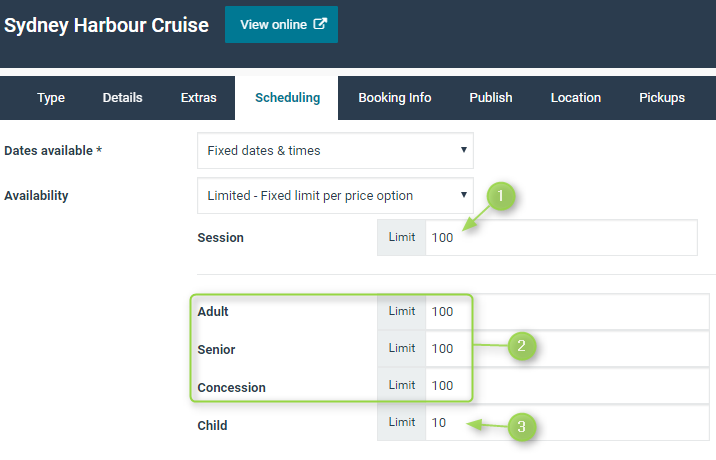 Other scenarios involve:
reserved seats on a boat i.e. divers vs spectators
reserved seats on a plane i.e. skydivers vs instructors
reserved seats in a concert/theatre hall i.e. Premium Reserve, A Reserve, B Reserve
set number of Single & Double cabins on a yacht
reserved seats on a ship i.e. Adult vs Wheelchair Access
Click Here to see how to set this up
---
Limited - by resources per price option
Another example is if you have a self guided bike tour, where you have a specific amount of Adult bikes, Child bikes and Tandem bikes.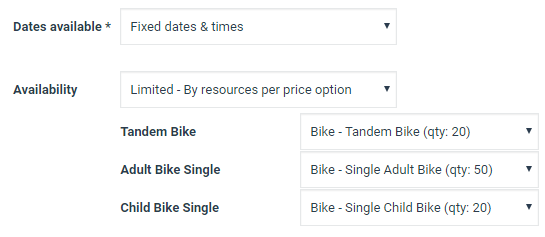 Other scenarios involve:
set amount of Large bikes vs Medium bikes
set amount of Adult Kayaks vs Child Kayaks
---