Set Availability Limits on Price Options
Follow
Overview
Rezdy allows you to set availability limits on price options e.g. Child, Senior. This is very useful if you have a limited number of a particular seat type on a vehicle e.g. child seats, or if you have a limited amount of resource types e.g. large bikes and small bikes.
Important: This feature is not available for Rental type or 'by Minute, by Hour, by Day' pricing type Products.
---
Example: Fixed limit per price option
In the following example, the vehicle used for a guided bus tour can seat a maximum of 30 people. However, the bus only has 10 child seats, therefore a limit needs to be set on the Child price option.
This can be setup in the following way:
Session maximum limit is set to 30.
There are no restrictions for Adult or Senior, they can also be set to 30.
The Child price limit is set to 10.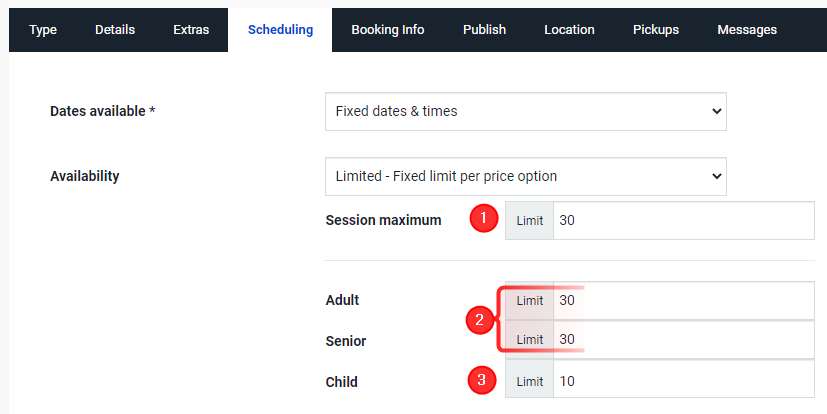 Other examples include:
Limited seats on a boat i.e. Divers vs Spectators.
Specific seats on a plane i.e. skydivers vs instructors.
Limited tickets in a concert hall i.e. Premium Reserve, A Reserve, B Reserve.
Specific seats on a ship i.e. Child & Wheelchair Access.
Click here to see how to set this up
---
Example: Limited resources per price option
Similar settings can also apply to resources, basically by linking the price options to the appropriate selection of resources.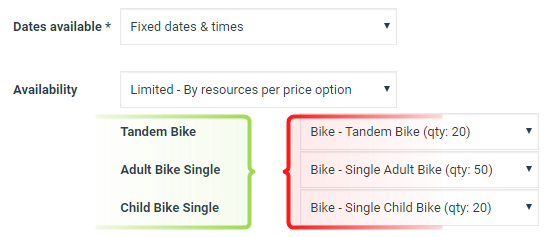 Other examples include:
Limited number of single & double rooms.
Limited amount of Adult Kayaks & Child Kayaks.
Click here to see how to set this up
---
Where to view and update availability
Viewing and updating availability for products (with a fixed limit per price option) can be done in two places:
1. You can view the remaining availability within an order, by clicking the session start time dropdown:

2. You can view and update the remaining availability on the Edit session page, within the Availability section:

---
---